In my original post, "Taking Back the Sabbath," I shared how establishing boundaries in my life that included guarding the Sabbath as a holy and restful experience was a critical factor in my shift to slow down. I spoke of my struggles to balance work and home life and suggested 5 tips to help you take back the Sabbath in your home.
Today I'm sharing 5 more tips with you that I hope you will find helpful and inspiring when it comes to taking back the Sabbath in your own life.
5 More Tips for Taking Back the Sabbath
1) Quiet Time with God: If you are still trying to find time to dedicate to God in your daily life, then start with the Sabbath. Once a week is still better than none at all. And once you develop the weekly habit through your Sabbath overhaul, you'll be hungry for more. Remember, there is no one way to spend time with God, it's just about doing it. So slow down, talk to Him, worship Him, and get in His Word. Wildland Man and I enjoy listening to podcast sermons and discussing the lesson afterwards together. Maybe you'd prefer a book that challenges you spiritually, or some worship music you can listen to while praying silently. Whatever you choose, just be still, soak up your blessings, and send your gratitude back up to heaven.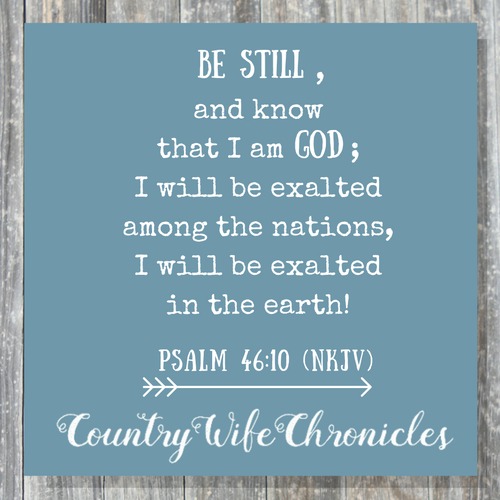 2) Connect with Nature: Get outside and see what God has made. Remember, He created this world in six days and rested on the seventh. Find ways to include some outside time in your Sabbath to just relish in the awesome creation that is His. We like to go fishing when the weather is good, dine al fresco on our porch, or go exploring in nature. You can incorporate the outdoors in so many ways, get creative and find what works for you and your family.
3) Unplug: I have begun to make our Sabbath a once a week tech detox. I refuse to work on Sundays if at all possible and completely disconnect from the world for a day. Instead, I try to focus on the present moment, improving the quality of my relationships. I challenge you to just kick the media distraction out of your life for a few hours; you aren't missing anything. Shut off ringers and buzzers and delight in the quiet. Bust out a board game instead of the gaming console. Read a real book with real pages instead of an eBook on a backlit screen. You'll be amazed at how refreshing it can be to choose to put a stop to the inundation of technology on our lives for just one day a week.
4) Make Sunday Special: As I mentioned in my previous post, our Sundays can end up becoming just another day of the week if we aren't careful about protecting them. Do something different on the Sabbath. If you are always on the go, then stay at home for the day. If you spend most of your week at home, then make Sunday about getting out and seeing something new. Making your Sabbath unlike any other day of the week holds it in high esteem and creating boundaries keeps it unique and guarded not only as a holy day, but also as a day for rest and for family.
5) Create Boundaries…and Stick to Them: This has been the trickiest aspect of taking back the Sabbath since I began to work from home. It was also intrinsically tough for me when I had a professional career, as it has always been difficult for me to shut off my work brain and not bring work home with me. However, when I left at the end of the day there was at least that physical separation. Now that I work at home, I literally walk into my kitchen and can still see my office desk; it is always there, always available for me to work at. I am a very structured person, an A-type personality, so for me, creating a boundary between work and home was very much about creating a literal separation. I have designated hours in which I will work during the week and I try really hard to stick to them, this includes not working on weekends. When you are your own boss you don't have to answer to anyone, but you are also responsible for it all. There is always something else that could be done, and no one is going to get it done for you. It's a difficult balance, but discovering the little tricks that will work for your circumstances can help you achieve it.
Ultimately, taking back the Sabbath is penciling in a day of rest and renewal into your weekly schedule. It's about restoration, not exhaustion; doing what you love and replenishing your soul in the process. What your Sabbath looks like is really up to you, as long it doesn't feel like labor and toil you are on the right track.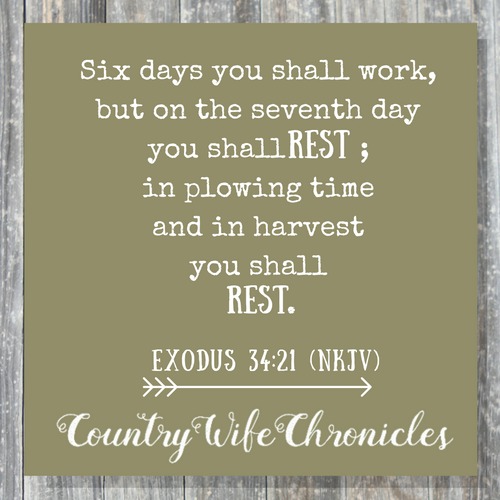 The Country Wife Recommends…
I know I've just given you several tips on how to go about taking back the Sabbath (for even more tips go here), but I also want to share one resource that could be a great jumping off point for any of you just getting started with this idea that may be feeling a little overwhelmed at the moment. I'm a believer that it all starts with gratitude for the blessings we've been given in this life.
If you are at a loss as to where to start, I aboslutely recommend picking up the book One Thousand Gifts: A Dare to Live Fully Right Where You Are by Ann Voskamp. Ann has also written several companion resources for the book, if you are interested, and you can check out all that she has to offer here.
Once you have this book in hand, just start by spending some time every Sunday to read through its pages. Take your time and really soak in the beautiful words Ann poetically shares with her readers. I'll be honest; this book was revolutionary in my faith journey. It challenged me and pushed me to seek a deeper connection, even when I already felt pretty strong in my faith connection. I found myself reading and re-reading paragraphs to really let them sink in and fully grasp the grace and joy that radiated from the text. It all starts with Eucharisteo, giving thanks, and a challenge to do so for blessings you probably haven't even considered as such before.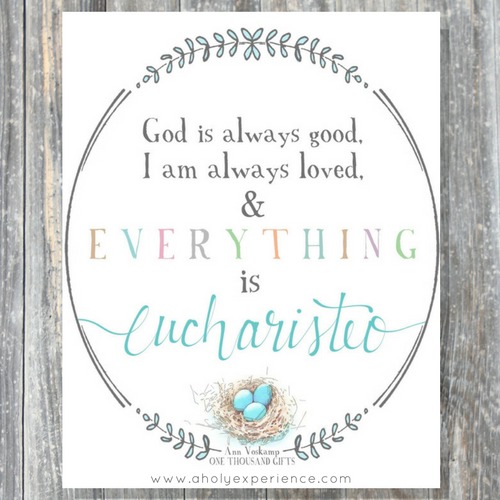 I really feel that if you start with giving thanks for your blessings with the guidance provided by Ann Voskamp through One Thousand Gifts on your Sabbath you will grow into a deeper faith connection and a desire to continue to do so daily. With this new, or renewed, sense of connection to your Father you will begin to find a way to take back your Sabbath that works for you.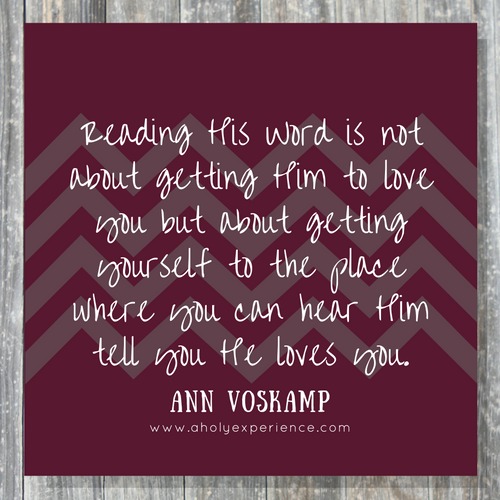 Throughout the pages of Country Wife Chronicles I have often shared the positive changes that have come out of slowing down in my life. Establishing boundaries to honor the Sabbath is just one way to move toward a slower pace in life. If you are here, reading this post, I'm thinking you are hungry for that slower pace…or at least curious about it. So, why not start with a simple experiment, take back your Sabbath and see what happens.
If you would like to read more about how I feel on this particular topic, check out my original post "Taking Back the Sabbath."
Get in on in the conversation by commenting below:
How can taking the Sabbath back create in you a stronger desire to make a daily commitment to spending time alone with God?
Have you ever tried a tech detox? If so, what did you learn from the experience?
How can you make your Sundays special?
What are some boundaries you can set today to help guard and protect your Sabbath?
Be Still & Know…