In the quiet mornings of the Christmas season I often find myself sitting with a hot cup of coffee by the light of our Christmas tree watching the flames of a fireplace flicker.
Ok, full disclosure…so while the picture I'm painting you with my words is all truth, I feel the need to share with you that, said fireplace is actually a DVD. But, if you put a little space heater in front of the T.V. you can fool anyone. 😉
Regardless, the point I'm trying to make is that, for me, Christmas often brings with it a time for introspection. The year is drawing nearer to its end, the stirrings of my faith are awakened with the meaning of Christmas, and the quiet solitude amidst the hustle and bustle of the holidays allows me a few moments of reflection.
Experience Love
Set these quiet moments to the soundtrack of Christmas hymns and my thoughts almost always land on sweet Mary and her role in the Christmas story.
I imagine the setting of a rural Nazareth. I think about what it must have been like to grow and harvest crops to put food on the table. I think about the long, arduous journeys to anywhere away from home. By foot…or on a donkey, if you're lucky.
Then, I envision Mary. What she must have endured during those times, a woman-child, out of wedlock with a no-father baby on the way. No money to her name. What judgment she must have faced.
And Joseph. Scared and prideful Joseph. Forgiving Joseph. Accepting, loving and faithful Joseph. Joseph, who stood by Mary's side when no one else would.
Mary sometimes appears as a quiet, meek child turned woman in the Nativity story. But her quiet and steadfast faith…it wasn't shaken. She trusted God and willingly put herself into some sketchy situations in following His commands. But she never wavered. Doubt may have seeped in at times, I'm sure, but she never questioned God's plan for her. His plan to use her to bring the world's Savior into being.
Over those nine short months Mary must have felt the true experience of God's love. She was carrying His Son within her, by means of the Holy Spirit. What greater love can there be?
I often wonder, "Could I have walked in Mary's shoes?"
I pray my faith could be so deep. I pray I can experience that kind of love.
Keeping Christ in Christmas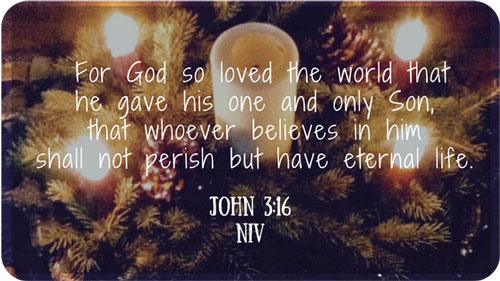 Love came down at Christmas. Christ our Savior, born and died for us.
In order to experience His love during the holidays, we need choose to keep Christ the focus of our Christmas celebrations. All it takes is a little bit of Internet research to find several unique and creative ways to keep Christ at the center of all your holiday festivities. Today, I'll share a few that I like with you:
Celebrate His Birth: Jesus' birthday tends to get overshadowed by Santa Claus' trip around the world. This year, set aside some time to bake Jesus a birthday cake and celebrate the reason for the season as a family. Maybe your children could choose a few toys to donate as an honorary gift for Jesus' birthday. Take pause to recognize the birth of our Savior.
Sing Christmas Carols: I've made no secret of that fact that I love my Christmas music. I could seriously play it year-round if Wildland Man would let me. My favorites are classic Christmas hymns that so beautifully tell the story of the Nativity on that Holy night so long ago. Pay attention to local events featuring Christmas carols. Find out where you can go caroling as a family. Spread and experience God's love through music.
Unplug: If you've been following along here at CWC very long, then you have probably caught on to the fact that I'm a fan of

tech detoxes

. Personally, I have a cut-off time for technology most evenings and I like to do a periodic full-on technology detox every now and again. I feel like Christmas is the perfect time to power-down…and yet, probably one of the most difficult. Instead of viewing your world through a smartphone's camera, put the phone down and just be present with your loved ones. Instead of checking out all the latest Christmas recipes on

Pinterest

, perfectly placed Christmas tree ornaments on

Instagram

, or picturesque family photos of friends on

Facebook

, live these activities out. Bake cookies with your grandkids. Make decorating the house a full-on, festive event. Get outside and play together in the snow.
Read the Word: Have you ever read the Nativity story in the Bible? I'm not just talking about hearing the scripture read at church every Christmas. I'm saying, have you ever read it, in the quiet of your own home on Christmas morning? This beautiful story takes on a new meaning when you read it for yourself. Open up your Bible to the book of

Luke

and read the first couple of chapters. It is a Christmas story to behold.
Spend Less: Did you know that most banks offer some kind of Christmas savings CD? We spend money at Christmastime. That may be the biggest understatement ever. There are meals to prepare, baking to be done, gifts to be bought and wrapped, a home to decorate, donations to be made, and on and on. So I'm not going to ask you to halt your spending at Christmas. I'm not sure you can get around it. But I do believe you can cut back. And not just for the sake of spending less. But, rather, for the sake of experiencing Christmas. Where can you give experiences rather than gifts? How can you build relationships and make memories together? How can you experience love this Christmas?
Christian Christmas Traditions: The holidays are steeped in tradition. There are cultural and religious traditions. There are family traditions. There are new traditions. There are old traditions. Take a minute to think about what your family's Christmas traditions have become over the years. Now take a closer look at those favorite traditions. Where is Christ in them? Does your family light Advent candles every week to count down to Christmas? Maybe this year you could incorporate a

family devotional

to go along with it. Do you always take a drive to look at Christmas light displays? Have you ever made a game out of spotting Nativity scenes? Consider adding a

kneeling Santa

to your Nativity set at home as a visual reminder of the true reason for the season.
Receive Jesus: Have you accepted Jesus Christ as your Savior and Lord of your life? If not, you can. He asks us to believe in Him, to have faith. He asks us to seek forgiveness and live out the Bible's lessons in our life. Jesus came to this earth for you and me. He came as love. He is love. Experience love this Christmas.
The Bible tells us in 1 Corinthians 13:13 that of faith, hope and love; the greatest of these if love. How do you experience God's love at Christmas?
Just as I shared with you last week, I want to make this idea of "A Simple Christmas" easy for you. Once again I'm sharing a printable with you to assist you in Experiencing Love by Keeping Christ in Christmas.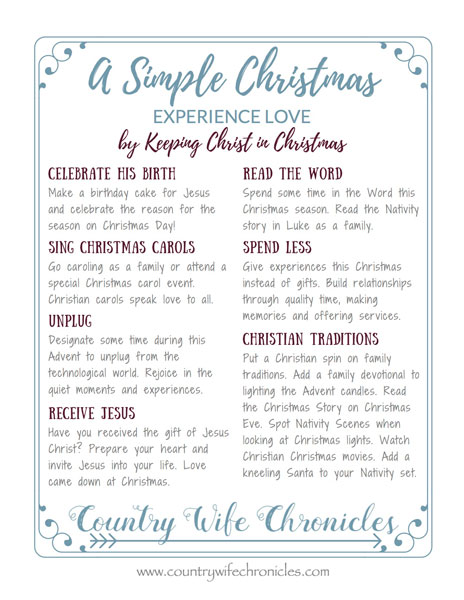 Experience Christmas
Christmas is more than mistletoe and holly. It is more than a fresh snowfall on a cold winter's day. It is more than magical reindeer and the North Pole.
The spirit of Christmas is found in Christ. Our Savior. Immanuel.
It was found in a manger on a calm, bright night.
There is no greater love.
I pray that you might experience the love that was given for you on Christmas day.
I pray that we won't forget the magnitude of this gift. That we will show our gratitude in honoring Christ during this season.
I pray that we might replace Christmas wishes for the latest gadgets and toys with love and experiences.
I pray that you might experience God's love, not just at Christmastime, but every day of your life. You need only have faith. You need only to accept His love that is already extended to you.
I pray that when we experience this love we will share this love with others. Lest we not forget that in experiencing love at Christmas we are better able to spread joy.
Get in on the conversation by commenting at the bottom of the page:
How does the holiday season sometimes leave out Christ?

What are some ways that you already try to keep Christ in Christmas?

What ideas do you want to try out this year in order to Experience Love at Christmastime?
Be Still & Know…