It is Christmas morning as this post publishes. I'm certain you are probably reading this after-the-fact. And I totally get it. In fact, I expect it.
What does your Christmas morning typically look like? The kids busting out of bed with excitement way earlier than you expected? A messy post-Christmas morning breakfast kitchen? A plethora of wrapping paper on the living room floor? Recipes to prepare for a family Christmas celebration?
So much for a quiet Christmas morning.
Do you feel like you simplified your Christmas this year? Did you try out any Acts of Kindness to Give Hope to others? Did you try to Keep Christ in Christmas and experience His love this year? Were you able to give back and Spread Joy this Christmas?
Today, we experience peace beyond understanding. For unto us a child is born…the Prince of Peace.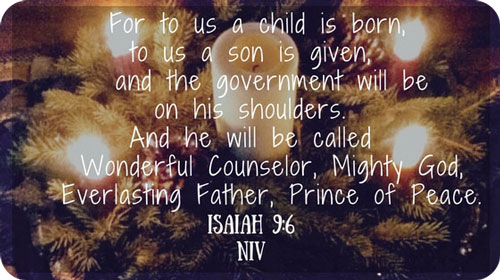 Peace in the Stillness
If you are finding the time to read this message on Christmas morning, first of all, I must say, "Thank you!" I can't tell you how much it means to me that you would allow me into your home on such a precious day. That my blog, these words, might be a priority for you is beyond belief to me.
So, if you are reading this post on this Christmas morn, do me a favor? If you have time to read this blog post right now…just stop.
I don't mean to sound bossy. Except, maybe I do. I mean, if you are finding yourself with a few spare moments on this Christmas Day, please don't use it to read my words. I'm honored, I truly am, but use it for you.
Carve out a moment of stillness. Seek the peace that the Lord offers us. Find a little corner of the house where you can read His Promises, stare out the window in wonder, and say a few heartfelt prayers.
Don't sit here and read my words. Read HIS.
I promise this post will be up all week. Close your Internet window and come back tomorrow. I give you permission to rest. To feel hope. To experience love. To be filled with joy and awe. And to find peace.
Go and enjoy the merriest of Christmases.
Experience Peace
Ok, if you are still reading this and it is Christmas morning… Goodbye. I mean, sorry, but I'm not going to finish this post as if my readers are reading on Christmas Day. So this won't apply to you anymore. Shut it down and come back tomorrow.
All right now that I have lost my devoted Christmas Day readers, by my own doing, mind you, let's finish this Christmas week post…
Were you able to find peace this Christmas? Are you still seeking it?
Well just because Christmas is over, doesn't mean your efforts need to come to an end. You can still seek and experience peace in the days that follow Christmas.
Here's how…
A Peaceful Home: After the chaos that can be Christmas Day, take a moment to restore peace in your home. Light your favorite candles, turn down the lights, fill the air with relaxing music, and crank up the fireplace (or the

fireplace DVD

😉 ). Enjoy the quiet solitude that comes after Christmas. Focus your heart, relax your mind, and calm your senses.
Don't Be Afraid to Say No: Though Christmas may have come and gone by the time you are reading this, it doesn't change the fact that less is more. Did you struggle with overload this Christmas season? Did you say yes to things you could've said no to? Take a moment to reflect on how you could simplify Christmas next year and make a New Year's resolution to say "No" to things that could burden you.
Quit Comparing: The post-Christmas window is often filled with social media overload. It is so easy to get caught up in the comparison and to start seeing your gifts as not good enough. Keep your focus on family and memories and gratitude. Stay off of social media. Know the difference between wants and needs. Find contentment in your current circumstances. Peace is the best gift of all and we all received that this Christmas, in the form of the Prince of Peace.
Well-Rested: Take a nap; you deserve it. Shut the alarm off and sleep in. Rest, renew, and rejuvenate. The holidays can definitely take it out of you. Don't overlook the importance of slowing down and catching up on your sleep.
Enjoy Some Cocoa: The Christmas season has flown by once again. Did you even get to savor a cup of cocoa? Like actually enjoy it, not just gulp it down while running errands? Your to-do list is complete. The kids are playing with their new toys. Your family obligations are done. You have a lull between Christmas and New Year's. Make yourself a warming cup of cocoa, sit in the stillness of a Christmas tree-lit room and sip away. Quietly. Peacefully.
Count Your Blessings: As the year's end draws closer take a look back at all that you can be grateful for. What blessings can you count? Where has God used you? How has your faith grown? Soak in those blessings. Appreciate them. Thank God for them. Be grateful for the simplest of things, knowing there is always someone less fortunate than you. This world is a big, big place. And what you have, many do not.
Pray for Peace: Rejoice! Jesus, the Prince of Peace, was born on Christmas Day.

Hope

,

Love

,

Joy

, and

Peace

came down at Christmas. Though, that can be hard to see in the world we live in today. Take a moment to add world peace to your prayer list. I often focus my prayers on my personal needs and desires and that of those closest to me. But what about the world at large? What about people in other countries? What about missionaries in dangerous parts of the world? Jesus is the Prince of Peace; let Him use our prayers to bring peace to an unsettled world.
Reconcile Differences: The holidays can bring about the worst in family dynamics. I wish it weren't so. But put enough people in a small space for several hours and the differences are bound to be highlighted. Are there any situations you need to reconcile? Do you owe someone an apology for how you behaved or something you may have said? Were you hurt by a loved one? Do they even know how they hurt you? Is there a strained relationship in your life that you can work on? I'm not saying these differences can be reconciled in a day. But they need not be ignored. Honor God's desire for peace in our lives by seeking reconciliation.
Well, this short list rounds out Country Wife Chronicles' "A Simple Christmas" series. I hope that this series has helped you take a closer look at the Christmas season and allowed your home to be filled with the Spirit of Christmas this year.
It has been a joy to share this series with you. In this final week, may you seek and find peace.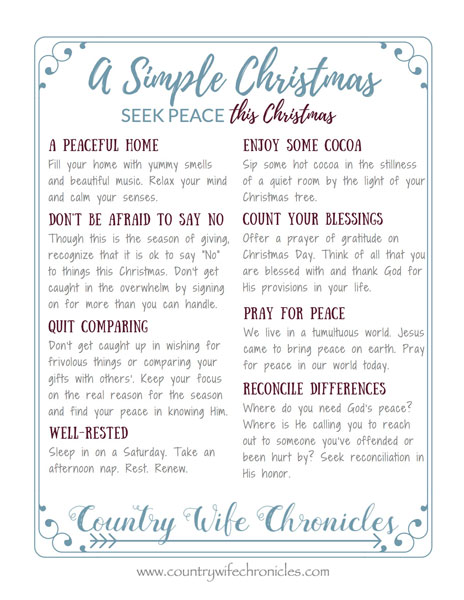 Wonderful Counselor, Mighty God, Everlasting Father, Prince of Peace. (Isaiah 9:6)
Immanuel. Lamb of God.
The Light of the World. The Reason for the Season.
King of Kings. Baby Jesus.
That first Noel was not about gifts or Santa. It was about a babe in a manger. It was about a Promise.
Angels in heaven rejoiced as peace was sent to Earth. Wise men traveled from afar to see for their own eyes a child that was born on Christmas Day.
In stepping back from the consumerism that Christmas has become we simplify Christmas. We get back to the basics of the meaning of that day in history. We find the roots of our faith. The story of our God. A reason to believe.
Thank you, my readers, for being here. I am filled with gratitude for you.
Be Still & Know…