I love a good crowd-pleasing recipe. Whether its for a church covered dish, holiday gathering, or just dinner guests at home…give me something easy to prepare ahead of time and I'm a happy hostess.
As we are in the throws of fall and the holiday entertaining is right around the corner, I felt the timing was perfect to pull out this tried and true recipe for y'all.
Chicken Rigatoni Casserole.
I'll be honest, this one takes a little prep work, but it is so worth it. And it freezes incredibly well so it is in your best interest to just double the recipe from the get go and get more bang for your buck from the start. Then just pull a pan out of the freezer and pop it in the oven, add a salad and some garlic bread and you have a delicious meal on the table with ease.
Chicken Rigatoni Casserole
I should mention…this particular recipe is NOT gluten-free. And certainly NOT dairy-free. While I'm experimenting with both of these concepts in my life right now, I'm obviously not 100% committed. And this recipe, it's the exception, not the rule. I mean if you are going to go off the gluten-free/dairy-free track for a recipe, this is the one to do it for y'all. Go big or go home.
A recipe from Martha Stewart for Baked Penne with Chicken and Sun Dried Tomatoes inspired me here; but I'm not that into sun-dried tomatoes and all I had on hand at home was rigatoni, so that's what I went with on this one.
All right, so let's get to the recipe…
Ok, the first step is to cook the chicken breasts you'll be using in this recipe.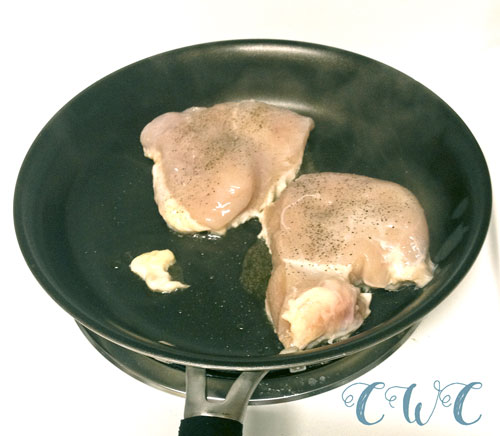 While you've got the chicken going, go ahead and grease the baking dish(es) you intend you use for the casserole. As I mentioned above, this recipe is a great double-batch recipe so that's what I decided to do this time around.
I also decided to make these casseroles in disposable pans so that I could give one away and keep one in our freezer for future use.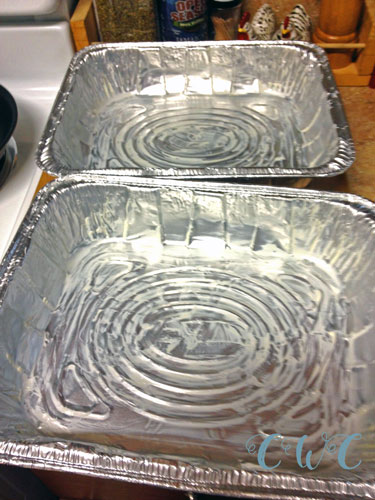 Next, you'll need to cook the rigatoni pasta. Of course you can substitute with another pasta of your liking if you so desire.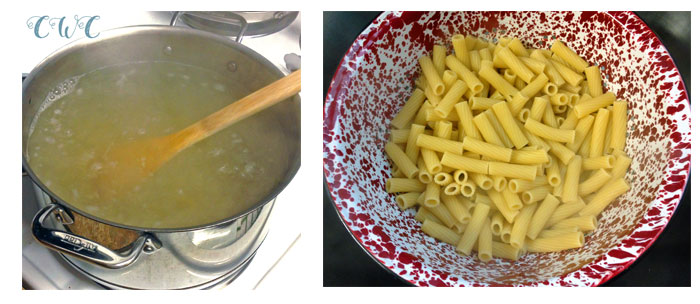 Now it's time to start putting together the yummy, creamy, cheesy sauce which absolutely qualifies this casserole as comfort food.
Basically, we are talking butter, flour, garlic and whole milk folks. I mean can you ever really go wrong with a garlic cream sauce? I think not.

Once you have the ingredients for the cream sauce coming together, it's time to add in some mushrooms. You could also add in diced tomatoes or sun-dried tomatoes at this point if you like.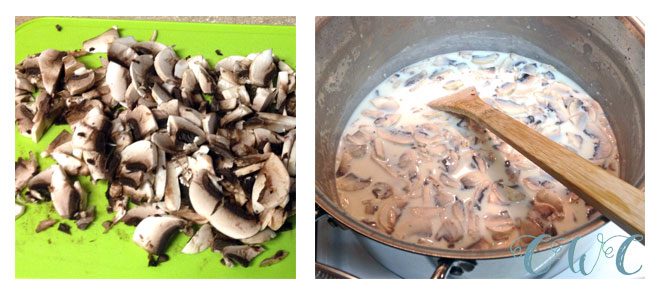 And the final ingredient for the sauce is cheese, glorious cheese—specifically provolone and Parmesan. Did I mention that this recipe is not for the lactose intolerant?
Then add back in your pasta and chicken and you're done.

Now, all you gotta do is pour this delectable mixture into your baking pan(s), top with a little more Parm, and you are good to go. You can pop it in the oven for dinner tonight or toss it in the freezer for a few months into the future. Of course if you plan to freeze it, my favorite thing to do is just grab a sharpie and write the baking instructions on top. That way I don't have to try to remember 3 months later what temperature to bake the casserole at!

This dish makes for a perfect comfort dish for a friend in need. And it makes for a wonderfully warm fall family dinner. I certainly hope you enjoy it, however you decide to use it.
Bon Appétit!

Double-Batch Chicken Rigatoni Casserole
2017-10-12 14:20:21
Serves 8
Comfort food at its best. A great prep-ahead and freeze dish...perfect for church events, family gatherings, or sharing with friends!
Ingredients
1 tsp. olive oil
2 large boneless, skinless chicken breasts
salt and pepper
1 lb. rigatoni pasta
6 Tbs. butter
1/2 cup + 2 Tbs. flour
4 garlic cloves, minced
6 cups whole milk
10 oz. white mushrooms, sliced thin
1 1/2 cups shredded provolone
1 cup grated Parmesan
Instructions
Heat the olive oil in a large skillet over medium-high heat. Season the chicken breasts with salt and pepper and cook thoroughly on each side.
While the chicken is cooking, butter the baking dishes you will be using and start a large pot of boiling water for the pasta. Cook the pasta just a few minutes short of being done, as it will cook more in the sauce and in the oven.
Preheat the oven to 400°.
Cut the cooked chicken breasts into thin slices and drain the pasta.
In a large Dutch oven or heavy pot, melt the butter over medium heat. Add in the flour and minced garlic and continue to whisk while cooking for one minute. Gradually add in the milk while continuing to whisk and bring the mixture to a simmer. Add in mushrooms and cook for another minute. Remove from heat and add in all the provolone and half the Parmesan.
Add the chicken and pasta back into the sauce mixture, season with more salt and pepper to your liking and stir together. Pour the mixture into your baking dishes and top with the remaining Parmesan cheese.
Bake until golden and bubbly, about 25 minutes.
Notes
Of course you can add in some tomatoes with the mushrooms if you desire, either sun-dried or diced could work in this recipe.
If you decide to freeze one or both of these casserole dishes, just let them cool completely, cover with foil, and freeze. Be sure to write your baking instructions on the foil: Bake, covered, at 400° on a baking sheet for about 1 ½ hours until center is hot and top is golden.
Adapted from Martha Stewart
Country Wife Chronicles https://www.countrywifechronicles.com/