All right, last week was my top 10 absolute, must-have holiday baking tools. This week, we are talking top 10 favorite ingredients in my holiday baking pantry.
I'm not a foodie expert. I haven't produced a cookbook, and I certainly don't star in my very own Food Network show.
But I do love to bake.
So while I may not own a bakery or have any chops, so to speak, in the pastry-world, I do have my own personal favorites when it comes to baking. And I can tell you I'm not endorsed by any of the companies whose products I'm sharing with you on the blog. This is just me, in real life, sharing my favorite things with you.
Ok, ok, I know…I'm not Oprah. Just the Country Wife. But, who knows, one day the Country Wife's favorite things could be a thing. Right?
Now, getting back to today's checklist…
Thanksgiving is this Thursday. The day after Thanksgiving Wildland Man and I are heading to a Christmas tree farm and syrup mill. I'm so excited I can barely stand it. I hate to overlook Thanksgiving; it is a superb holiday. Great grub. Good company. Wonderful weather.
But, oh, the magic of Christmas…it just speaks warmth, comfort, and love to my soul. I wish winter snow could last all year long. I wish the beauty and spirit that surrounds the Christmas season could be felt all year long.
But it isn't. And that is what makes it so special.
Every year, during this time, I start busting out all things Christmas. Favorite recipes, Christmas carols, classic movies, holiday décor, hot cocoa, comfy Christmas jammies…
And I bake. And bake some more. I scour the Internet for new recipes, mash up multiple options for my own creations, and tweak family recipes with new ingredients to make them my own. I revel in the Christmas kitchen.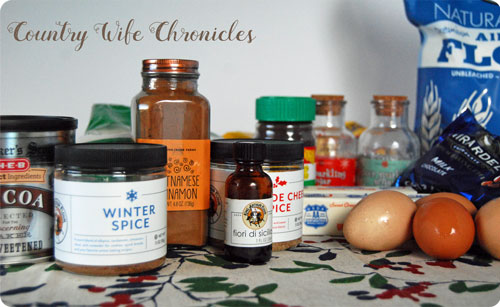 After a few good years of some pretty solid holiday baking under my belt I've come to find that I have some clear favorites when it comes to ingredients that I use. These that I'm sharing with you today are staples in my pantry.
Let me tell you why…
Wheat Montana Natural White Flour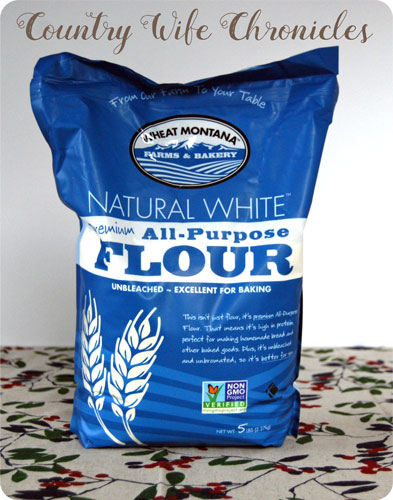 Ok, so maybe white flour is white flour is white flour. But then again, maybe not. There's all-purpose, bread, cake, etc. In fact if you really do your homework on wheat flour you can get overwhelmed pretty darn quick. And that's not even breaking down flours into ancient grains, whole grain, or even gluten-free. Just basic white flour. So, why Wheat Montana Natural White Premium All-Purpose Flour? Well, to be utterly honest with you, I picked it up one day just to try something new, baked a batch of cookies and what do you know? I fell in love. Those cookies were some of the best I ever made and the only real variable I could define was this new flour choice. So all though I tend to bake with whole grain or gluten-free flour options these days, if I'm going to use a white all-purpose flour, it will be Wheat Montana.
Dark Brown Sugar + Cane Sugar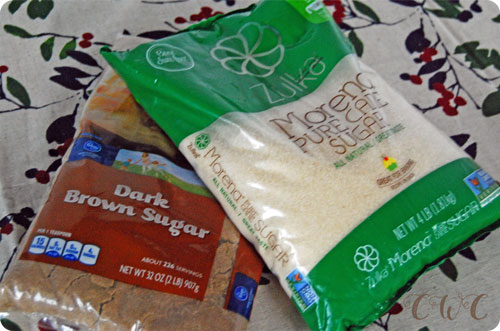 Wildland Man loves himself some molasses, so in our house it's dark brown sugar, none of that light stuff. 😉 I've also made the switch to minimally processed cane sugar over regular ole white sugar and haven't looked back since. Though it isn't necessarily healthier, it is less processed which I hope counts for something, and it is a direct 1-to-1 swap in recipes. I feel like the cane sugar gives baked goods a richer color and deeper sweet flavor, it's almost a bit caramel-like.
Land O Lakes Butter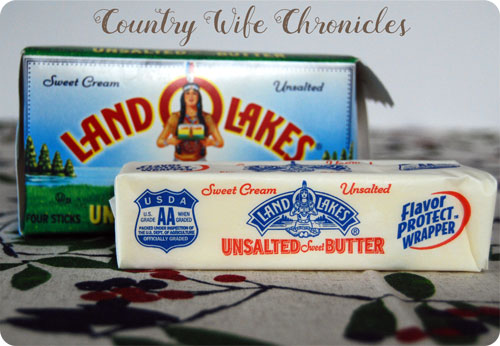 There are plenty of butters to choose from these days, and I feel like I've tried them all. We tend to be a little choosier when it comes to table butter, but for baking, I love Land O Lakes and Challenge brands. I'm not especially brand loyal when it comes to baking butters, I'll typically pick up whatever is cheapest that day, but over the years I do keep coming back to these two favorites when they are on sale. I just feel like their flavor is more profound and I'm pleased with my recipes when I choose them.
Farm Fresh Eggs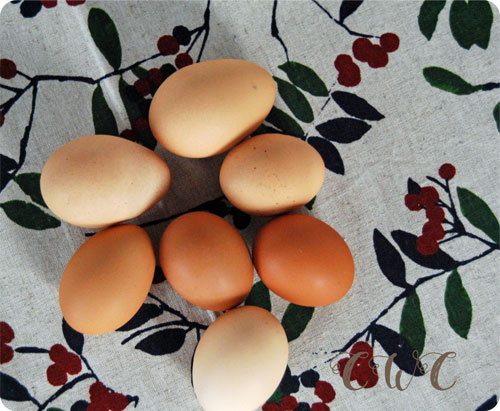 We've been fortunate enough to be able to get our hands on farm fresh eggs for a while now, and I just don't buy eggs anymore! If I did, I suppose I'd opt for Eggland's Best, but really if you can land fresh laid eggs, they honestly can't be beat. Their intense color and flavor just isn't comparable to anything the store can offer.
Nielsen-Massey Vanilla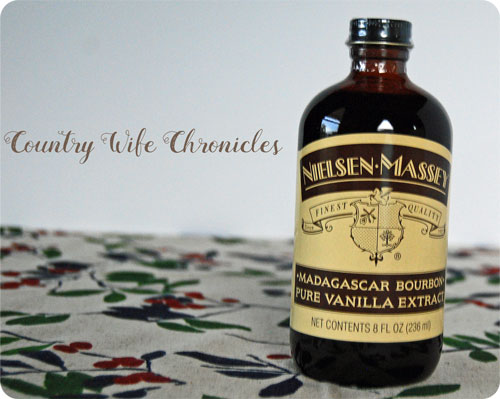 Mmm…vanilla. My very, very favorite of all the flavors. Now, this particular favorite brand of mine isn't cheap, but it is so worth it. First things first, please, please use the real thing—pure vanilla extract, none of that imitation stuff. I really prefer the boldness of Madagascar Bourbon Vanilla. And if you're willing to splurge, check out their Vanilla Bean Paste. It is a divine vanilla bean flecked concoction. In fact, I'm asking Wildland Man for it for Christmas this year. It's that good y'all. Put it in homemade ice cream, cheesecake, eggnog, etc. It's a secret weapon in baking.
H-E-B Baker's Cocoa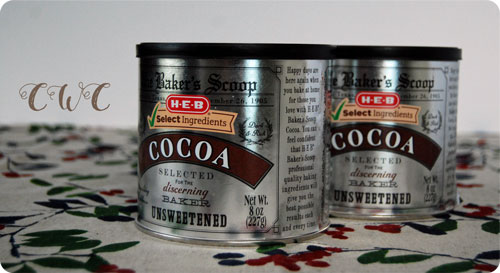 Not all cocoas are created equal. Since moving south we have fallen in love with H-E-B grocery stores! But since we moved again, we don't have access to it like we once did. Anytime Wildland Man travels for work and can stop at an H-E-B he stocks up on all of our favorites. And this is one of them. A deep, dark cocoa powder perfect for homemade hot cocoas and chocolate desserts. And if you are looking to go even deeper, I must recommend you try Dutch-process cocoa at least once in your lifetime. It is processed with an alkaline solution giving it a richer flavor and it will make the darkest dark chocolate treats. A little goes a long way and I love it for making homemade Oreos and for anything mint-chocolate.
Vietnamese Cinnamon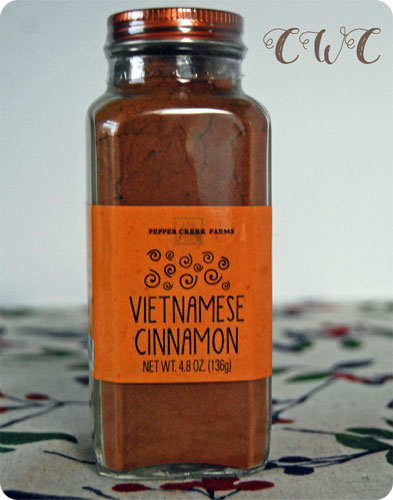 Who knew there were different levels of cinnamon? Not me, not until I tried some Vietnamese cinnamon from King Arthur Flour. Vietnamese cinnamon packs a more intense punch when it comes to flavor. This particular one I actually nabbed from our local Marshalls. I'm always walking down the food aisles at T.J.Maxx & Marshalls to see what high-end ingredients I can grab at a discount. I still keep regular ole cinnamon in my spice cabinet, but I try to use this one when I really want my recipe to taste like cinnamon. It's perfect in scones and biscotti.
Instant Espresso Powder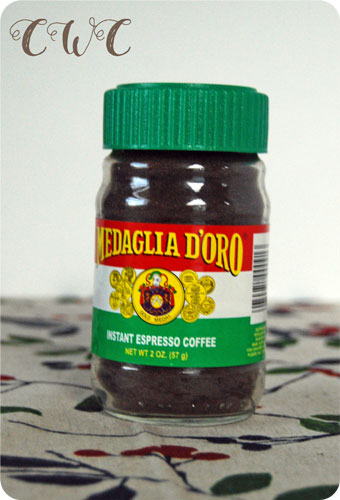 Instant espresso powder makes the cut as another secret weapon in baking. I know, you are probably thinking, when will I ever use this? Think chocolate. Anything chocolate. Espresso powder is the secret to perfectly divine, richly flavored chocolate desserts. If you use the right amount your treats won't come off like a strong cup of brew, but rather, a sweet treat with a deeper, more enhanced chocolate flavor to them. Everyone will ask what's different with the recipe, and they'll never know it's the addition of espresso powder!
A Variety of Baking Chips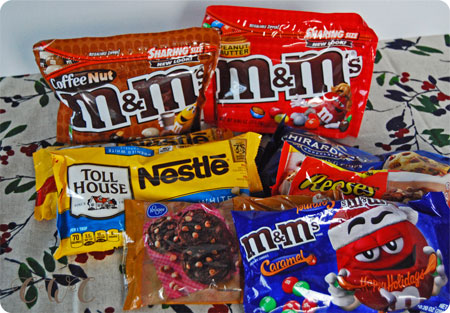 When I'm in the spirit of baking for the holidays, I'm all about variety. Sure, I might have some recipes I keep coming back to year after year, but I really like to vary what I'm baking so I don't get bored and I can try new things too! The easiest way to add variety when you are baking big batches? Keep your base recipe the same and just change up the add-ins. This way you can double, triple, or quadruple a base cookie recipe and split it out to change up the add-ins. Lots of variety, minimal effort.
Some of my favorites to pick up are almost any flavor of M&M'S, Ghirardelli chocolate chunks, Nestle Toll House white chocolate chips, and Reese's peanut butter baking chips. The only thing I couldn't find when preparing to write this post were cinnamon chips, typically I can find HERSHEY's Cinnamon Baking Chips in the store, but not this time. However, I did pick up these salted caramel ones from Kroger so we'll try them this year instead. Go ahead and mix up your baking this year with a variety of options!
All the Extras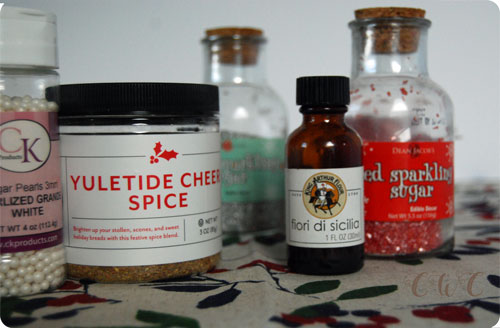 My last recommended holiday baking ingredient(s) would have to be all those tiny little extras you can add to boost the flavor or add a hint of Christmas to a recipe. It's the details that make the biggest difference in holiday treats. How they look and the flavors that they impart can put someone in the holiday spirit! Pick up some fun sprinkles for cookies, add a course decorating sugar to top your muffins, and try out some unique holiday flavors. King Arthur Flour is my go-to for flavor experimentation. Yuletide Cheer Spice­­­­­­­­­­­­­­­­­­­­ is perfect in sweet breads and stollen. Winter Spice makes a comforting homemade holiday creamer and gives that holiday touch to muffins and cookies. Fiori di Sicilia adds a hint of citrus-vanilla to any recipe. And Eggnog Flavor tastes just like it sounds, making holiday treats a bit more festive.
Well now, between last week's post on

holiday baking essential tools

and this week's top ingredients, you are all set to crush your holiday baking this season!
And, yes, I know, Thanksgiving is this week…but now you are ready, fully prepped and educated to go pick up or order your baking necessities for the rest of the holiday season. If you are anything like me you'll probably get some of that baking underway this coming weekend while you start to pull out the Christmas decorations.
But, wait, there's more… Well, there will be, coming up next week! So, keep up the holiday cheer until we meet up again here at Country Wife Chronicles!
And in the meantime, feel free to share with me some of your all-time favorite holiday baking essential ingredients by adding your comment at the bottom of the page!
Be Still & Know…