The last time I did a "Country Wife Recommends…" post here on Country Wife Chronicles, I was sharing my very favorite Christian marriage resources with you.
This time, we are taking a bit of a change in direction. Today, we are talking all things holiday baking.
Tis that time of year where you take stock of your pantry and start preparing treats and goodies for the masses. You might be planning your Thanksgiving feast or what dessert you want to bring to the family gathering. Maybe you are starting to think ahead to Christmas and wanting to have everything on hand to make treats for neighbors and friends.
Whatever baking you have planned this holiday season, here's hoping you can gain a little something from the next few posts here on CWC. Today, it's my top ten absolute, must-have tools for a holiday baking extravaganza.
If you are anything like me, then you like to do things in bulk. Plan, prepare, and bake. That's just what makes my heart happy. So this is the time, before the holiday pressure really kicks in, to start planning.
What do you need to stock your pantry for upcoming baking recipes?
Do you have all the tools in your kitchen arsenal to make your baking days easier, more pleasure and less chore?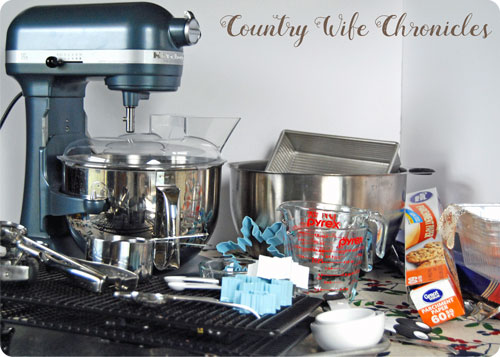 Well, let's just get into it then…cuz this photo-filled list of kitchen utensils and tools is a long one y'all. I'm gonna drop the small talk right now and just share my faves with you!
Kitchen Aid Stand Mixer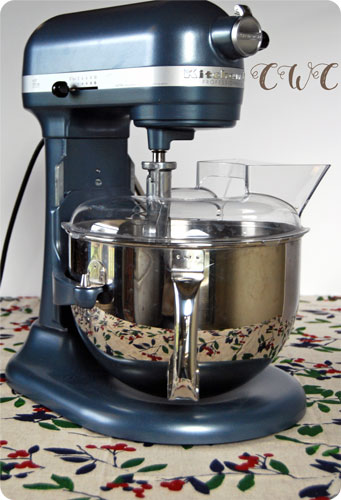 Well, I was going to be all generic with this list and then I realized that I'm sharing my favorite things with you, so, while a stand mixer is pretty standard in any baker's kitchen, I'm going to go ahead and get a bit brand-loyal. My Kitchen Aid stand mixer is, hands-down, my very favorite kitchen tool. I have had this little beauty for almost 10 years and she still works like new. Kitchen Aid is the gold standard of stand mixers. Just Love. Love. And more love.
BIG Mixing Bowls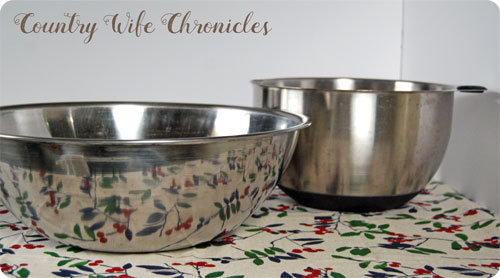 Ok, so obviously, mixing bowls are pretty imperative to baking. But these aren't just any mixing bowls. I'm talking BIG bowls that are easy to clean and can manage a doubled or even quadrupled recipe. I can't even tell you where to find the massive stainless steel bowl on the left; it was my grandma's…or maybe my great-grandma's? Either way, it has stood the test of time and I won't be letting it go anytime soon. The one on the right is a nice big size that Pampered Chef offers. If you are into doubling batches, a giant mixing bowl is a must.
A Plethora of Measuring Cups & Spoons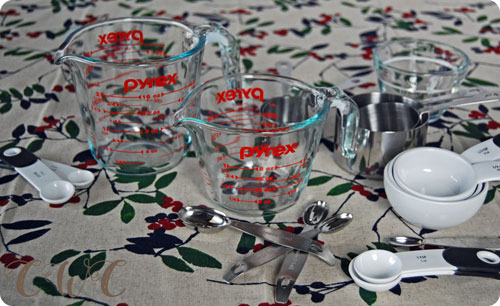 Again, an obvious necessity in any baker's kitchen. But, having had a few big baking days in my past, I can tell you I'm a sucker for anything that measures. The more the merrier. Double sets of cups and spoons allow me to keep on baking throughout the day without having to always stop to wash prep dishes in the process. Other measurers have lids for storing ingredients and batters. Having multiples of measuring devices really keeps the baking flowing in my kitchen.
Parchment Paper + Extra-Large Foil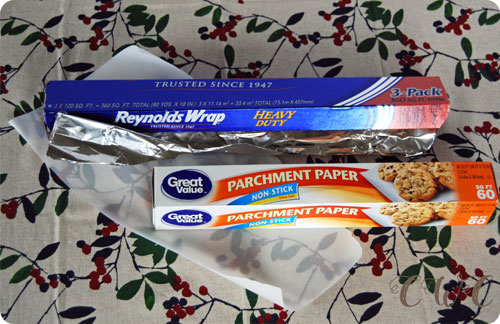 These wonders are all about making cleanup a breeze. Parchment is a great cookie sheet liner and you can get multiple batches of cookies out of just one sheet. Of course a SILPAT can come in handy here as well, but parchment is cheaper and a bit more multi-purpose. I love it as a gift-wrap for baked goods as well. And foil, but not just any foil, this extra-large foil I pick up at our local Sam's Club. Why? Well, it can cover an entire cookie sheet without any seams making clean up amazingly easy! It's great for messy or greasy bakes like barks, toffees, bacon and more.
Half-Sheet Pans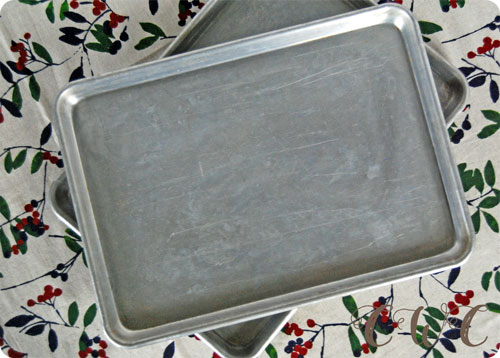 These half-sheet pans are my go-to cookie sheets. They are simple, they have a nice lip on them, and they can be used for anything from cookies to sheet cake. Nuff said.
Batter Scoops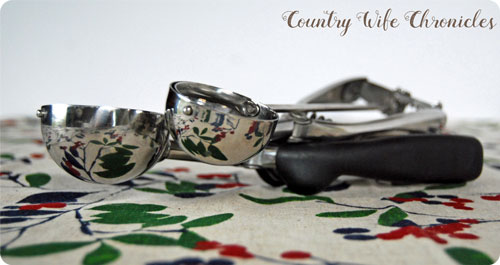 I love these scoops for easy distribution of batter into muffin tins or scooping consistent cookie dough balls onto a baking sheet. I'm not sure I have a preference, but these two are by Pampered Chef and OXO. If you have yet to try out one of these little multi-purpose scoopers, you just don't know what you are missing!
Stackable Cooling Racks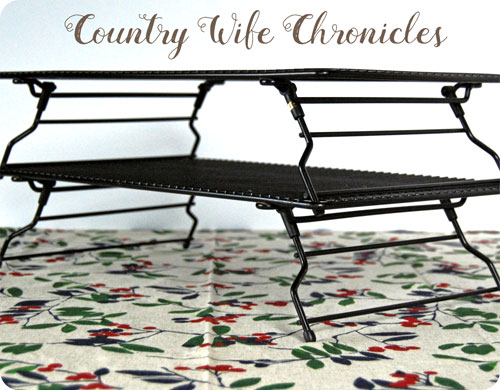 If you have a full day of baking ahead of you a cooling rack is an absolute necessity, and stackable ones are even better. You can get more treats on them without taking up any more counter real estate in a tight kitchen. An additional tip for a tight kitchen? The top of the refrigerator is a pretty good place to cool off baked goods. 😉
USA Pans Bakeware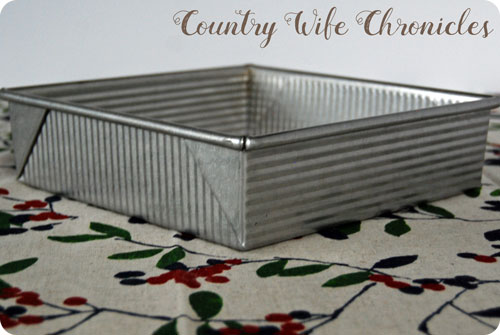 So, I have to admit, this little brownie pan may not be the most useful tool when you are in the throws of holiday baking for a crowd, but this pan…I just can't not mention USA Pans. I didn't know anything about USA Pans before this little brownie pan came into my life. And now, I'm absolutely sold on this brand. It is a solid, heavy-duty, commercial grade, American made, corrugated luxury pan that is built for baking. I absolutely plan to replace old bakeware with USA Pans in the future. Love. And worth every cent.
Disposable Baking Tins + Holiday Ribbon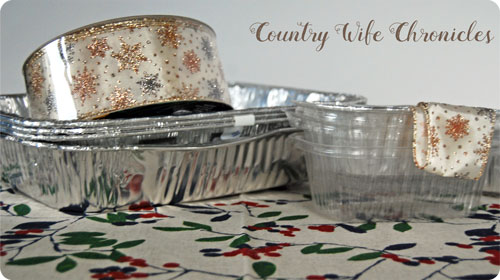 Disposable aluminum pans are a staple in my kitchen. They are multi-functional, always come in handy, and with just a little bit of seasonal ribbon and twine they transform into beautiful gift packaging for food gifts. Bake in them, freeze for later, or simply wrap up a variety of cookies for a friend anytime of the year.
Fun & Festive Cookie Cutters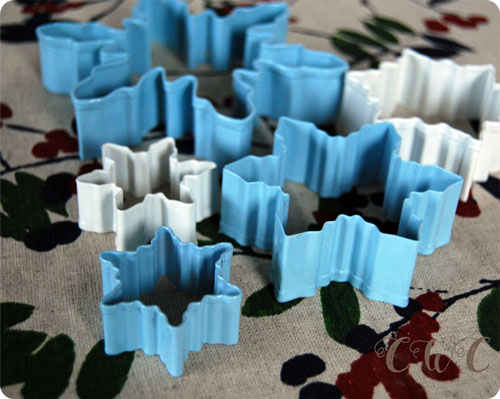 Now you can't have holiday baking without some festive Christmas cookies, now can you? There are so many fun and creative cookie cutters out there these days! I love these snowflake cookie cutters because they can be used all winter long. And they make for some gorgeous cookies!
Holiday Baking, Here We Come!
My frugal heart simply can't condone telling you that you need to go out and buy all these holiday baking essentials in order to have a successful holiday bake this season. But if you feel like treating yourself to a new tool before the baking ensues, then by all means, check 'em out! And if you have a baker on your Christmas list, consider picking up an item for them. Or, you can always just add these to your Christmas wish list!
I know…it's early to be talking about Christmas; we haven't even celebrated Thanksgiving! But, at least for me, Thanksgiving signifies the kick off to baking season. And that means I'm already thinking about the recipes I want to try out. Which means I'm planning grocery lists and assessing my pantry, and just generally getting into the baking spirit!
So, be sure to join me next week right here at CWC for a follow-up to this post, next time we'll be talking Holiday Baking Essential Ingredients! Get your shopping list out…because these ingredients are going to make your recipes be the talk of the table!
In the mean time, be sure to share with me any other tools you keep hidden in your baking cache by commenting at the bottom of the page!
Be Still & Know…