This week at Country Wife Chronicles I'm throwing a little country rustic DIY your way.
Temperatures are shifting and the jackets have started to make their way out of the closets. So, a DIY wall-mounted coat rack it is. This one is particularly rustic, because it is actually made from some moulding we pulled out of my grandparents' old farmhouse.
I can't take full credit for this DIY, of course, because Wildland Man had an awful lot to do with getting this one done. But I'm pretty confident I could have pulled it off all my by myself if I wanted to. It's that easy.
Making a House a Country Home
I don't know about you, but I feel like it is taking forever for our house to feel like a home. Actually, no, let me rephrase that…to feel like our home. You know how when you are in college and you have that eclectic apartment style you share with your roommates? There is a piece of everyone in the décor, but nothing really feels like you? Well, in some ways, I still feel that in our home.
I can understand why, our journey to where we are now certainly lends itself to our hodge-podge home decorating style. Once Wildland Man and I were married and living in our first 100+ year old country home, we were fortunate to be able to fill it with so many pieces of furniture and décor that had either been gifted or handed down to us. We really were lacking nothing in terms of major pieces for the house.
The problem was those pieces didn't necessarily go together and they certainly didn't all fit my style of decorating. Fast-forward almost ten years and we still have most of those pieces traveling with us wherever we move.
Now, I'm not complaining, well, not really. Most of our major pieces of furniture are great quality, solid wood and sturdy. They just need a little TLC or refinishing to make them ours. And I just haven't gotten around to it yet, because those projects are bit more daunting than this quick one I'm sharing with you today.
That's why I love the little touches that we can add, pulling in my rustic fixer-upper decorating style to help create that home atmosphere I'm looking for. By the way, thank you Chip & Joanna Gaines for making my design preferences so popular. Though, it is becoming a bit of a problem for my Pinterest addiction.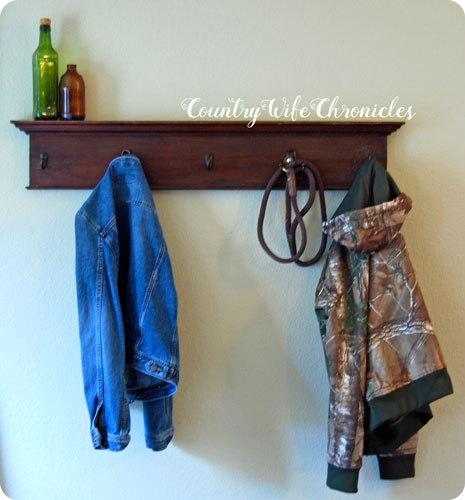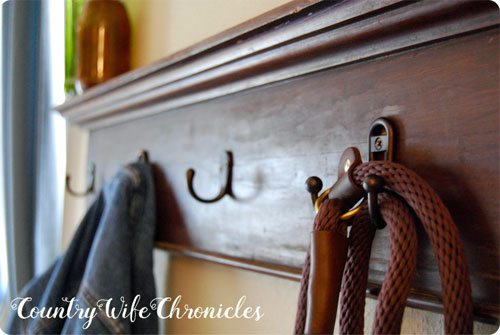 DIY Antique Moulding Coat Rack
All right, so let's get to today's project. I think you may be surprised at just how simple this one really is.
Step One: Get all your parts and pieces together. In this case, we are talking the moulding, the hooks, and the mounting brackets. That's really it.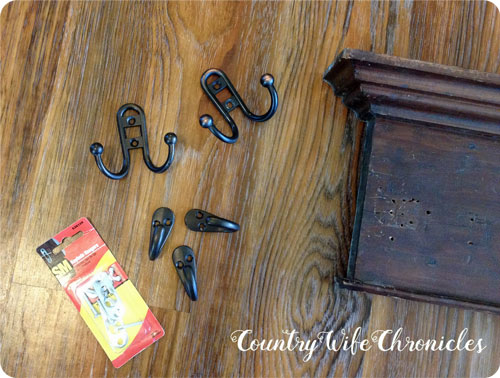 Step Two: Lay out the hooks to your desired distance and pattern and make a mark on the moulding for where you intend to screw them in.

Step Three: Get the coat rack ready to hang by flipping it over and attaching whatever method you decide for wall mounting. We used these nifty little brackets. We simply found our studs in the wall where we wanted to hang the rack and measured the distance on the back of the moulding to match so that each nail for the mounting brackets would be in a stud.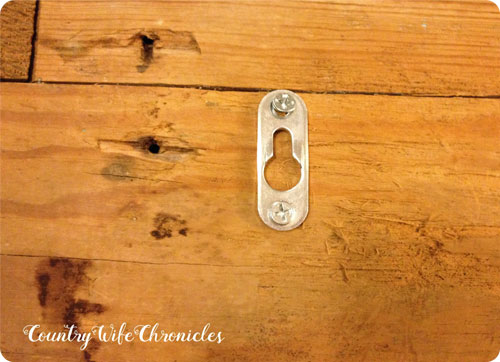 Step Four: Now you can flip the moulding back over and screw in the hooks according to where you made marks for their placement.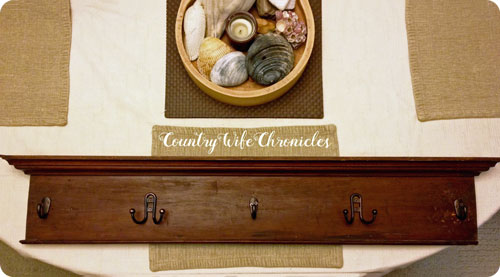 Step Five: Voilà! Hang this baby on the wall and you are good to go!

This DIY was almost too easy for us. We were able to get our hands on the moulding when my parents' were remodeling the farmhouse and we already had all the hooks on hand from a previous project; honestly I'm not sure we even spent a dime to put this thing together.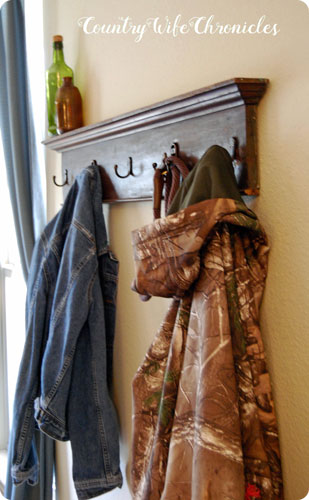 Are you in need of some additional coat storage?
Do you want to add a bit of rustic love to your home décor?
Well, then, go scrounge around and find yourself some moulding and hooks and in no time at all you can have this project done! Of course, you can absolutely make this project your own by choosing different hardware that reflects your personality or refinishing/painting the moulding. I'm thinking I'd like to add a bit more of a prominent ledge to the top of mine in the near future to create a shelf. Seriously, just check out Pinterest for a million other coat rack ideas!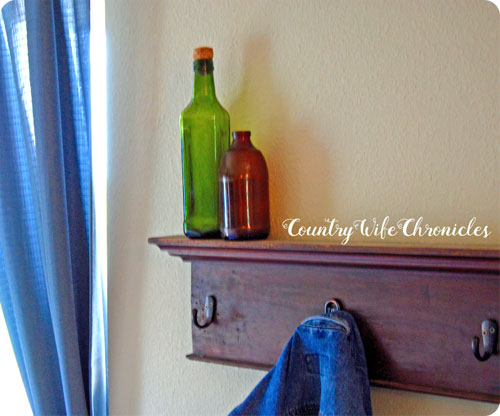 I feel like this little DIY would totally make Joanna Gaines so proud. We are reusing and repurposing moulding that probably would have just landed in a dump somewhere. Honestly, I feel like this little distressed beauty could absolutely be featured on Magnolia Market's website! Maybe I should plan a trip to the Silos for some market research. Any takers to come with me?
In the meantime, while we wait for Target to pick this up for the Gaines' new line in home décor retail, you can head over to Country Wife Chronicle's Pinterest page for more Country Crafting and DIY Inspo.

I'd love for you to leave a comment at the bottom of the page! I'm always anxious to hear what my readers think of what I'm putting out there for the world to view. Let me know what you are liking here at

CWC

so far. Do you have any favorite posts? Do you wish I'd share more on a certain subject? I'm working to define my niche and would love some feedback from my loyals that have been here along for the ride since the beginning.
Thanks loves, I so appreciate you taking some time out of your day to read my words.
Be Still & Know…