Wildland Man is the cook in our household. I know, I'm a lucky one. I can cook if I have to, but my hubs loves it, so I do the baking and he does the cooking. It's a solid arrangement we have and I relish in it…until Wildland Man leaves to fight fires, but I guess that's just part of "Living the Fire Life." Then I'm left to fend for myself in the kitchen. When I'm a household of one in Wildland Man's absence, let's just say my meals usually leave a little something to be desired.
Cooking for One
It's hard to get motivated to cook for just one. Plus, as I'm not the go-to cook in our house, I kind of have a terrible lack of understanding when it comes to prep/cook time. Combine that with the fact that I have a bad habit of waiting until I'm on the edge of hangry before going to the kitchen to see what I can whip up and the result is usually cereal for dinner.
So, enter these homemade energy bites I found on Money Saving Mom's blog. They are quick, border on the baking side (although they are no-bake) which is more my comfort zone, and they make a big batch I can throw in the freezer and munch on any time hunger strikes. I use protein powder in this recipe, which provides a little more sustenance in the event that I eat a handful of these as a quick lunch substitute.
I'm working on my cooking ability and I usually do get brave enough to start making some meals when Wildland Man is away, but those first couple of days are HARD. When he first leaves for a detail, I often get a little mopey, I don't sleep well, and my motivation is totally lacking. So these little energy bites help to get me through the first rough couple of days until I can get back in sync with my usual routine.
I've also learned to start preparing for Wildland Man's absence as we begin to approach a new fire season. I'll start making a point to portion out dinners that he cooks and will freeze well to set aside for me to have when he's gone. I will also make casseroles that I can freeze to have on hand as well. Have I mentioned my strong love affair with casseroles, like my savory Chile Rellenos Casserole or my decadent Indoor S'mores Casserole? Now, that's a meal I can tackle all my own in the kitchen. Thinking ahead and preparing has saved me many a night of pathetic dinners when Wildland Man is away.
Homemade Energy Bites
Ok, back to these energy bites…they are so easy-peasy (really—just two steps!) and a great little snack to have on hand any time of the year. Here's how you throw them together: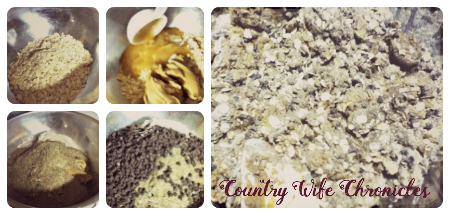 Step 1: Mix all the ingredients together—my version contains oatmeal, peanut butter, honey, protein powder, ground flaxseed, chocolate chips, and vanilla.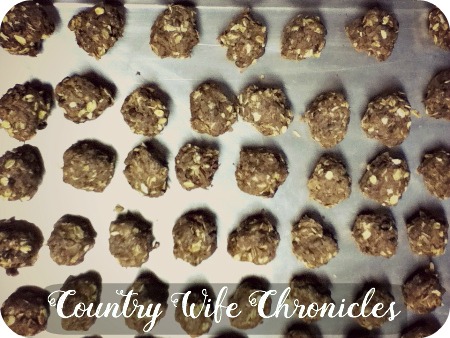 Step 2: Form balls and freeze. And…done. So simple!
If you get the chance, make yourself a batch of these—they'll keep well in the freezer and you'll have a healthy, ready-to-eat, non-processed snack for the whole family. No fire season necessary to enjoy these little treats!
Be Still & Know…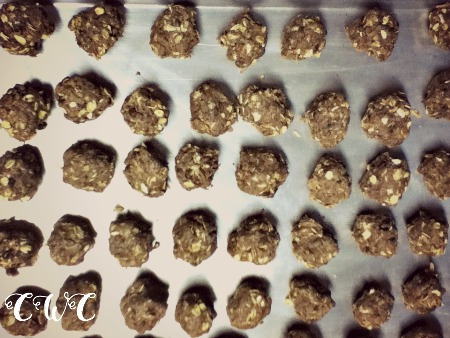 Energy Bites
2016-06-22 11:14:48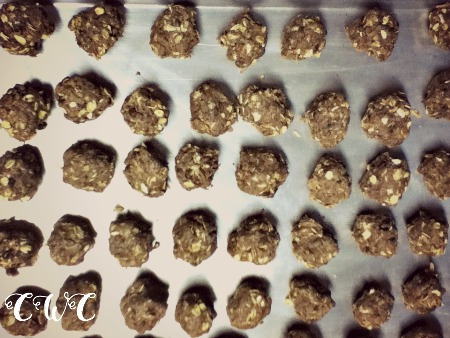 A super quick and simple, high energy treat that is no-bake and delicious!
Ingredients
2 cups oatmeal
1 cup peanut butter
2/3 cup honey
2 cups protein powder
1 cup ground flaxseed
1 cup chocolate chips
2 teaspoon vanilla
Instructions
Mix all ingredients in a large bowl.
Form into small balls and place on a cookie sheet.
Freeze for 1-2 hours to set up. Remove from cookie sheet and store in an airtight freezer bag in the freezer.
Can be eaten straight from the freezer (which is what I prefer--especially in the summer!) or you can set out at room temperature for 15-30 minutes before eating.
Notes
This recipe was adapted from http://www.moneysavingmom.com.
Blog post URL: http://moneysavingmom.com/2012/05/4-weeks-to-fill-your-freezer-homemade-energy-bites-day-18.html.
Original recipe adapted from http://www.smashedpeasandcarrots.com.
Recipe Post URL: http://smashedpeasandcarrots.com/no-bake-energy-bites-recipe/.
Adapted from Money Saving Mom
Country Wife Chronicles https://www.countrywifechronicles.com/
Photo Quality Disclaimer: If you haven't read any of my previous posts, I just need to mention this… My photos are not great. They. Just. Aren't. Sorry. We live a pretty frugal lifestyle and at the time of this recipe experiment the only camera equipment I had was an iPod. No flash. Gritty and out of focus results. What's a girl to do? I guess just take pictures anyway and hope for the best. So, first, I apologize if the photos don't come across as appetizing as they should. I wish you could have been in the kitchen to witness this creation in person. And, second, I challenge any of my readers to test this recipe out in their own kitchen and take beautiful pictures of the entire process. If you send me your photos, I'll happily trade mine out for yours and give you photo credit on my blog.