So, I have to admit, I've been in a bit of a writing funk as of lately. I just can't seem to find the time or the motivation to get my writing days in. Or maybe I'm just a bit consumed with other thoughts at the moment. Either way, writing today was a bit of a struggle.
Wildland Man is gone for work this week and he just so happens to be driving through some beautiful country where he is seeing some amazing fall colors and relishing that crisp autumn air. Since moving to the south the thing I miss THE MOST is the seasonal changes we used to experience when we lived further north.
I LOVE winter. It is my very favorite time of the year. And I LOVE fall…because it always means winter is coming. It's like the prelude to the winter wonderland I adore so much.
Now…it's not like we don't experience any fall here in the south. Sure, a few species of trees will change colors with the daylight hours shifting. And we get the pumpkin spice craze just like the rest of the country. Heck, we even get a few cold fronts that make it all the way down to us that put a nip in the breeze.
And so, to honor this shift into fall, however minute it may feel at times, today I decided to create a Fall Bucket List for y'all. But this isn't just any ordinary Fall Bucket List like you can find all over Pinterest…this one is solely focused on getting outside to enjoy this beautiful weather!
Enjoying the Great Outdoors
I've mentioned before how in love I am with the outdoors here on CWC. It's a large part of where and how Wildland Man and I choose to live our lives. It is foundational in why we choose rural living over urban. And it is a love that we can share together in both work and play.
The thing is, when it comes to enjoying the great outdoors, weather usually plays a part in what you are able to do. So, today, I want to share with you some wonderful things you can do specifically in the fall season.
Ten Great Ideas for Fall Fun
1) Go Camping: Camping is not just for summertime, y'all. In fact, Wildland Man and I's very favorite time to bust out the tent is the fall. The heat isn't sweltering, the air is crisp, and the scenery is divine. Plus, added bonus, most people do choose to camp in other seasons, so often, campsites are blissfully quiet.
2) Have a Picnic: I believe autumn is the perfect time for a picnic. Get out your plaid picnic blanket, pack up your wicker basket, and head to the beach or a park and enjoy a meal outdoors with your loved ones. You can even pack up a thermos of soup on a chillier day…who says picnics have to be fried chicken or sandwiches?
3) Visit an Orchard: Apples are an autumn staple. If you can hit up a local apple orchard you can spend some time outdoors picking fruit for upcoming holiday recipes. If you don't live near apples, fall is still harvest season for other produce so do a little research and find a you-pick-somethin' in your area.
4) Host a Stargazing Party: I could tell you a million reasons why Wildland Man and I love stargazing. We are sort of astronomy nerds. Sparing the million reasons for today, I'll just start with the fact that fall and winter are some of the very best times of the year to get a good eye on the stars. The night air is still, the clouds tend to be clearer, and the evenings are enjoyable for night sky viewing. Do a little homework and find out what constellations are visible where you live and check them out!
5) Pick your own Pumpkins: Now I can't really write up a Fall Bucket List without including pumpkins can I? To incorporate the great outdoors, just be sure to head to a pumpkin patch rather than the store to pick up your autumn décor and jack-o-lantern masterpieces. Most pumpkin patches offer a multitude of outdoor fun activities for the whole family, so they are a must for any Fall Bucket List! You could even take it a step further and plan your own fall garden earlier in the year so that you can pick your very own pumpkins come fall!
6) Plan a Night Around the Bonfire: Bonfires, fire pits, campfires…all these warm and cozy outdoor fires are perfect for fall nights when the air is chilled and the breeze gets a bit cool. You can try out some campfire cooking for dinner, snuggle up with a cup of cocoa while roasting mallows, or even enjoy a cozy outdoor movie around the fire pit.
7) Check out the Fall Foliage: If you live anywhere near beautiful fall foliage that is changing and shifting into brilliant hues of reds and yellows, just do me a favor and don't take it for granted. Not everywhere in this country gets to experience this color change and shift of seasons. So, take a drive through a colorful canyon or plan a hike and picnic in a park that is painted with the colors of fall. And if you are lucky enough to have leaves falling in your own backyard, be sure to jump in your raked-up piles for me, too!
8) Go for a Hike or Horseback Ride: The best way to enjoy the great outdoors…well, is to just get outside. Go on a family hike on a comfortably cool fall day. Check out a local stable or state park that offers horseback riding off the beaten-path. If you haven't been able to go on a walk in your neighborhood lately, make plans to do so. Don't let this time of year and its beautiful weather pass you by!
9) Spend some Quiet Time in Nature: Nature should be a

sensory experience

. But, sometimes, in this fast-paced world we live in, we forget to

slow down

and let our surroundings soak in a bit. So take a minute to hit pause and be intentional about spending time outdoors. Take a book out on your deck and read in the warmth of the sun's rays. Walk along the ocean hearing the waves crash while you pick up seashells and feel their different textures. Take notice of various birds and wildlife in the area. Listen for the rustling of leaves and feel the chill of the breeze against your warm skin. Lay on your back and watch the clouds go by. Do whatever you need to be in the moment, using all your senses to truly experience the great outdoors.
10) Visit a State or National Park: Be sure to check out any state or

national parks

you have nearby. Often times, they aren't nearly as packed as they are in the summer and you might just overlook their proximity to you and miss out on some spectacular fall fun. Pack your fishing gear and spend a day on the water catching dinner. Gear up for a family hunt or hike. Plan your picnic at a park or go on a trail ride if they offer them. Just get away from the concrete and check out local or regional resources to help you and your family experience the great outdoors this fall.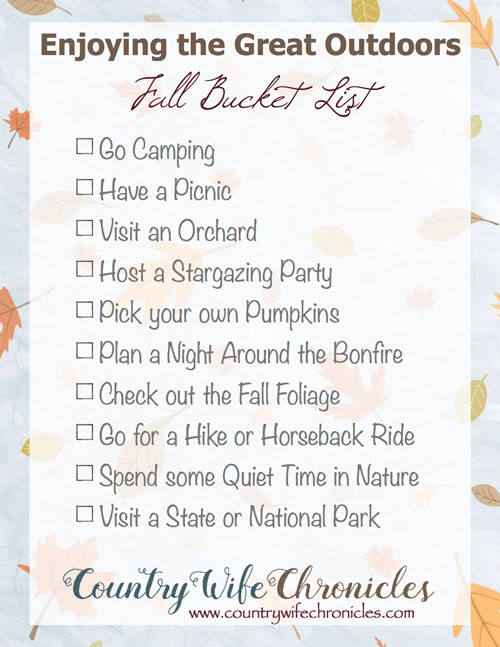 What's On Your Bucket List?
Oh, how I miss the fall. I mean…the northern fall? I really shouldn't complain. We do experience a shift in temperatures and for sure humidity. We just kinda miss out on all the other fall loves I have…leaves changing, cold, cold air, even an early snow storm. Yeah, that's not happening where we live now.
But I'm determined to not let the lack of "feeling like fall" where I live keep me from enjoying autumn. So pumpkin spice lattes here I come. Maybe I'll just turn my air conditioner down real low and pretend…
Be sure to grab today's freebie—a Great Outdoors inspired Fall Bucket List!

And make some plans to get out and enjoy the weather today!
So, what's on your fall bucket list? Do you love to get outside just as much as me? What's your favorite season?
So many questions, so little comments…
Would you consider sharing your thoughts with me today? I am so blessed to have you even spending a few minutes of your day reading the words I'm putting out there for the world to see. I'd love to hear from you, my dear, dear readers…
Be Still & Know…