I LOVE winter. It is my very favorite time of the year.
And though it may sound crazy to some of you, it is my very favorite time of the year to get outside. There is so much magic and beauty in the winter season, if you'll just step outside of your warm house to explore it.
I've been spoiled this year, since moving to the south I've so missed my northern snow-filled winters. But this year, the south has felt COLD! And I think I'm in heaven. We've even seen snow a time or two! I may be one of the only southerners rejoicing in this fact, but still…
Enjoying the Great Outdoors
You may recall that last fall I created and shared with you, my CWC readers, a Fall Bucket List designed to get you outside and enjoy the season.
Well, I've decided a seasonal bucket list is worth sharing throughout the year, so today I'm sharing a Winter Bucket List with you. And I'm intentionally sharing this little list with you post-Christmas to show you that not all bucket lists need to be centered around holiday festivities! And just like last time, this bucket list is solely focused on getting outside to enjoy the wintery weather!
The great outdoors are something I grew up appreciating and have always felt a visceral connection with. My professional résumé, pre-blogging, consists of various forms of environmental positions I've held over the years. And if I weren't blogging, well, I'd be homesteading. But if I weren't blogging or homesteading, then I'd for sure be doing something in the realm of outdoor or environmental education. Nature, in all its glory, and the peace it instills in my soul is definitely a passion pursuit of mine. One I hope to share with you now and then here on CWC.
I know, for some of you, winter is about cozying up in front of the fireplace, not bundling up to head outside. But the winter season is so worth exploring and I hope I can inspire you to head outdoors with some of these ideas.
Ten Great Ideas for Winter Wandering
Go Camping: With the right

cold-weather gear

you can create a comfortable, even cozy, winter camping experience. Check out all-season cabins at a nearby park, get your RV winterized, or grab your wall tent and wood stove and make plans to go camping in the off-season. Enjoy a night under the sparkling sky of winter and explore the outdoors for a weekend!
Stargaze on a Winter's Night: A cold winter's night can make for a great stargazing experience. Winter atmospheric conditions tend to create a clear, crisp night sky for viewing. So head outdoors on a calm night, grab your binoculars, a

star guide

and check out the constellations or even an upcoming

meteor shower

. Of course, you'll be outdoors during some of the coldest hours of the day, so be sure to protect yourself against the cold temps by bundling up!
Enjoy a Fireside Cocoa: Change it up and take the fire outside! Fire up your outdoor fire pit or build a massive winter bonfire, bundle up and sip a hot cocoa on a cold winter evening beside the warmth of the flames. There is just something about enjoying these two temperature extremes in conjunction with one another! Throw in some

s'mores

and carols pre-holiday and you've just created a magical family

Christmas tradition

.
Play in the Snow: Some of my very favorite winter memories growing up involve playing in the snow. But play is not just for the kids. Do you wanna build a snowman? Go sledding, make a snow angel, build a snow fort or igloo, have a snowball fight. If you live in a snowy-landscape, take full advantage of it. If you don't, promise me you'll make plans to get your family a day in the snow in the future. It may take some creativity and planning, but playing in the snow is absolutely an experience every person, child or adult, should get to have in their lifetime.
Take a Hike: If you live in a snow-globe winter wonderland you could trade out traditional hiking with cross-country skiing or snowshoeing, but the idea is to get outside and explore. And winter is the perfect time for a hike. You can get outside without the unbearable summer heat and hiking trails are significantly less crowded. You could plan a destination vacation to go hiking in some pretty

majestic winter parks

, but you can also just head out your backdoor and explore your corner of the world. Go for a seashell hunt on the beach, take a jog on a lakeside walking path, head out to a regional park and hit up the hiking trails with your dog.
Experience Snowfall: If you live where snowfall is a regular occurrence you may be taking that snowfall for granted and not even realize it. If you don't have snow where you live then you have yet to truly experience I'm not talking about just watching the snowfall through a window. And I'm not even talking about getting outside to build a snowman. I'm talking about taking a moment to have a sensory experience in the falling snow. Let a snowflake land on your tongue. Look up to the sky and wonder at the snowflakes fluttering down and landing in your eyelashes. Observe the intricacy of an individual snowflake just as it touches down on your bare skin and melts away. Breathe in the crisp air…deeply. Soak in the silence.
Visit a State or National Park: Checking out a park in the winter gives us a new perspective on nature's beauty. Parks are generally less crowded and have a more tranquil side to them in the quiet and calm of a winter season. If you can, plan a trip to one of our

nation's most majestic parks

that really sparkle and shine in the winter. There's

Bryce Canyon

, the

Grand Canyon

, or even Alaska's

Denali National Park

. There's also

Rocky Mountain National Park

,

Yosemite

, or

Yellowstone

. And so many, many

more options

. Surely you have some pretty amazing national or

state parks

in your area. Check them out. You might just spot wildlife you haven't seen before. You might even find yourself amazed with breathtaking winter landscapes you've lived near and yet never really seen.
Participate in a Winter Sport: This year is a

Winter Olympics

year. So it's the perfect time to get in the spirit of sports and have some fun as a winter athlete! Plan a winter destination vacation to a nearby ski slope; hit up a skating rink (outdoors if possible) to try out figure skating or hockey. Or just get creative and celebrate winter sports without the snow. Field hockey and rollerblading could emulate their winter counterparts. Do a little research and come up with some

fun games and activities

to commemorate our world's winter sports and honor the Olympic games as a family.
Go on an Early Morning Walk: I love my morning walks. They center me. They give me a peace-filled start to the day. But there is just something about a morning walk in the winter. If you are fortunate enough to walk out to a wintery, snow-covered world first thing in the morning, there is an eerie beauty in creating the first footsteps in the snow, crunching through that new layer of pristine white before anyone else has had a chance to. Winter air is crisp. The cool air fills your lungs and refreshes and rejuvenates you in a way that summer air just can't. The sunrise seems more vibrant—even more so if the rays glimmer off snow or frost. Get outdoors, in the early winter morning, and see for yourself!
Spend some Quiet Time in Nature: Spend an evening under the stars in quiet solitude taking in the magnificence of the Universe. Watch as the world comes alive with the sun peeking over the horizon. Take a moment this winter to immerse yourself in the sights and sounds of the season. Focus your mind. Meditate on your heart's desires. Pray from the soul. Give yourself permission to be in awe of our Creator. And find yourself growing closer to God in the

stillness

.
Disclaimer: While I love me some winter, I am not a cold weather expert. I'm not even a meteorologist. So while I'm sharing with you some fun ideas to get outdoors in the winter, it is up to you to be prepared and protect yourself in cold weather. Be sure to dress for the cold temperatures, equip your vehicle for winter travel, and watch the weather forecasts to take all safety precautions before attempting any of these winter activities.
What's On Your Bucket List?
So, are you ready to don your winter weather gear and head outdoors? Enjoy the classic winter activities you knew as a kid. Get outside and check out the snowy sparkle of a northern winter. Take in the outdoors, wherever you live, however you can.
Just get out there and enjoy the Great Outdoors with today's freebie—a Winter Bucket List!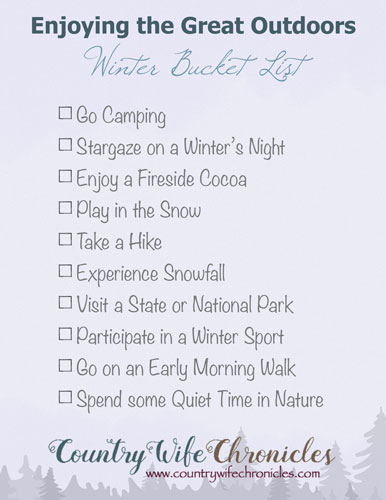 Why not make the most of winter while you are counting down the days until spring?
Now, a little bit of a CWC poll…just leave your answers in the comments below, please!
What's on your winter bucket list?

What's your favorite season to get outdoors?
Are you enjoying these types of blog posts? Do you like freebies? I'd love to get some feedback from my readers on what I'm putting out there for the world to read. Because I have lots and lots of ideas floating around in this head of mine, but I want to know what interests you most…Just leave a comment below and give me some ideas for where to take Country Wife Chronicles next!
Be Still & Know…