So…crafting. Hmmm, how do I explain my convoluted relationship with crafting?
I love it.
I hate it.
I wish I were better at it.
I have great ideas for it…just, zero follow-through.
Until today. Cuz today, I kicked crafting's butt.
I made up my mind a while ago that I wanted to share a crafting project with y'all here at Country Wife Chronicles. I mean, if you check out the CWC Pinterest page you'd probably think I'm a pretty mean crafter in my spare time. But, I'm…just not.
I'm a dreamer when it comes to crafting. A total non-crafter. An idea woman, yes. A Pinterest hoarder, for sure. A wannabe DIY-er…that's me.
I just lack the gumption needed to actually go out and get the supplies together to follow through with most crafting or DIY projects. That's why I needed to make myself do this one for y'all today.
And I'm so glad I did. Because slowly but surely, I think I may convince myself that I could become a crafter one day. Big aspirations, I know. We all need dreams people. Maybe crafting is one of mine.
Then again, I do love Etsy…
Mason Jar Love
So, when I decided I wanted to share a crafting project here on CWC, the first step in my planning was to decide what exactly I was going to try to accomplish. As fall has just begun I was definitely in the mood for something autumn-ish. As I began to peruse Pinterest for fall crafting ideas I kept running across concepts for beautifully distressed, rustic looking Mason jars.
Have I told you yet how I love Mason jars?
We have an assortment of Mason jars that serve as our drink ware in the Country Wife house. There are a few coin collecting jars on our bookshelf. I love to use them as vases for fresh flowers. They make for a great votive holder. I even have some showing off seashells in our guest bedroom. Then, of course, there is their obvious function for canning and the storing of food. Which we use them for often.
They are just so versatile and functional.
I knew I was on to something with a Mason jar craft. I really just needed to take a few of my empty jars and add a rustic farmhouse appeal to them by coating them with a couple layers of chalky paint.
This is Country Wife crafting perfection, y'all. Take something I already have, make it a touch prettier with some paint and call it a completed craft! Woot! Woot! (Can you tell how proud of myself I am? This is a big moment for me…)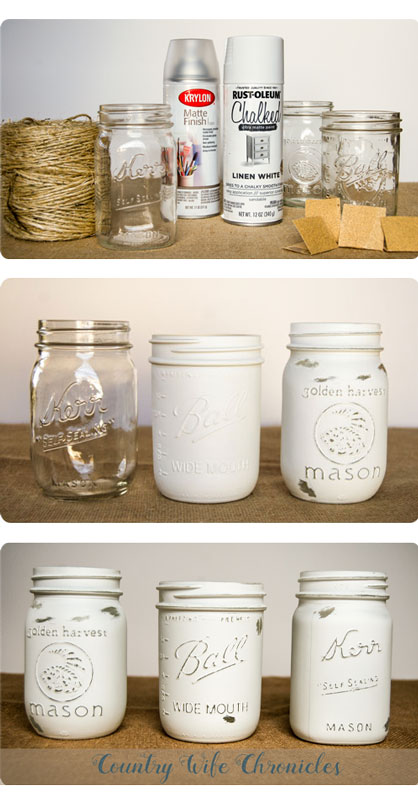 I decided to keep it simple and go with one color of paint for all three jars this time. I chose a neutral color, Linen White, so that I could utilize these jars throughout the seasons in my home décor. I'll show you that in just a minute…
I'm going to spare you the details of my how-to when it comes to painting and distressing these jars, because I really can't take credit for it. Linda, over at It All Started With Paint, has a great article on her site that provides wonderful instructions for this. It was my go-to for this project.
Of course, I did make some tweaks to suit my needs. For one, I went with a chalk spray paint rather than a brush-on. I just felt it was a quicker and smoother result for me. But Linda's instructions are on-point, so for sure check them out if you are planning your own jar-painting experience in the near future.
I must say, for my first-time-ever painting mason jars…this project turned out to be pretty easy peasy. I'd totally do it again. And with a bit more confidence, I'm sure. Who knows, maybe painting mason jars will become my thing. Well, I best not get ahead of myself just quite yet…
Multi-Tasking Decor
Here's what I know about crafting and décor in general. I like multi-taskers. I'm digging the whole concept of minimalism these days and I just don't want to deal with storing a bunch of stuff to change out my décor for the seasons. And that's where these little beauties I'm showing off today are total game-changers. By choosing to paint them in a neutral color they can be used all throughout the year! Just change up a few accent pieces and you have decor that can change with you throughout the seasons.
Plus, let's be honest, for all of us not-so-great crafters out there this concept really gets the most out of our crafting—or lack there of—skills. One craft to last the whole year through. That is my type of crafting. Minimal effort, maximum use!
Here's how they look set up for all things fall…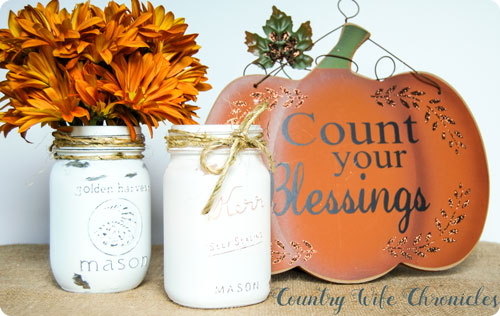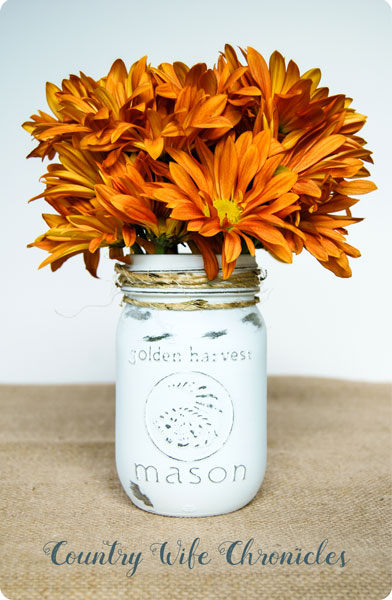 And here's my quick take on changing them out for the seasons…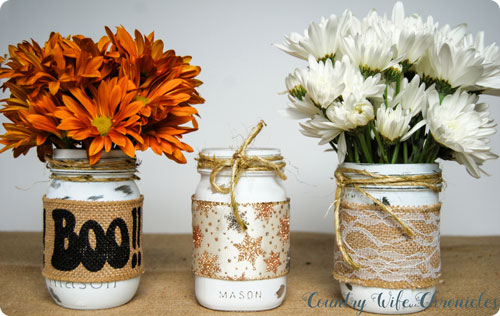 Share the Love
So, what do you think? Is this a crafting project you think you could tackle? How would you make this project uniquely yours?
I'm just so darned proud of this little crafting success of mine. It was cheap, easy, and didn't even take all that long to accomplish. The longest part of the whole process was waiting for the paint to dry.
And I totally love that my options with these jars are pretty much endless. I can change them out as vases throughout the year, use them as votive holders in the midst of holiday décor, or even add a soap dispenser top on them and repurpose them completely! Oh how I do love mason jars…
Of course, if you are a little skittish about crafting like me, you can always find your own versions on Etsy. Here are a few of my favorite shops:
And if you are looking for some more inspiration, be sure to check out the Country Wife Chronicles "Country Crafting" Pinterest Board for ideas. This board is where I hoard ideas and dream about crafting that may never become a reality. But…if you have follow-through as a crafter, check it out and let me know what you've created! I'd love to see your finished projects…maybe it will motivate me to get out there and keep on crafting!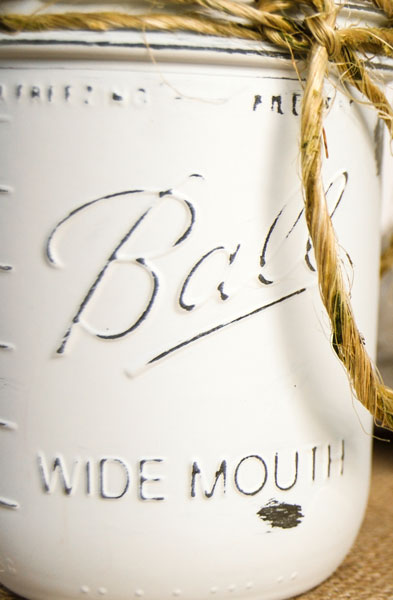 I've been doing all the talking, you know. So, it's your turn to chime in…just leave your comment at the bottom of the page!
Are you a craftaholic? Do you have any other easy craft ideas for us newbie crafters out there?

Are you a fellow Mason jar junkie? Do share your love for these multi-purpose beauties!

If you struggle with crafting like me, what are your biggest hang-ups? What keeps you out of the craft stores?
As always, thanks for reading along with me here at

CWC

! And happy crafting!
Be Still & Know…