Not so long ago, here on Country Wife Chronicles, I shared with you my journey to becoming a bit more self-sufficient. And one of the tips I shared with you was to "Learn to preserve."
Today's post is a prime example of doing just that. Preserving the yummy, juicy, summery goodness of fresh peaches to enjoy all year long.
And even better, preserving these gorgeous, plump, uber-ripe peaches without any added sugar. Simply natural fresh frozen peaches can't be beat…
Once you have a stash of frozen peaches, you'll be set to make smoothies, cobblers, French toast, or just about any peach recipe you desire, to your heart's content.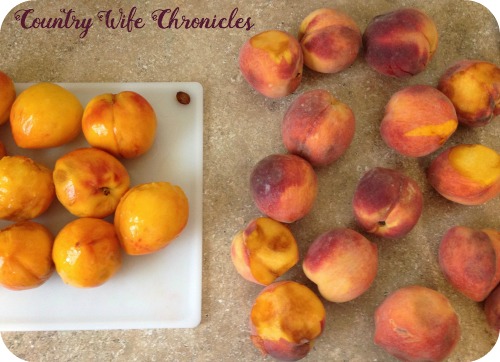 Homestead Harvest
The beauty of freezing peaches in bulk at home is the opportunity to get these babies when they are most delicious: absolutely ripened to perfection, ready to burst with sweet juices, and right off the tree!
Of course if you don't have a peach harvest opportunity near you, you can always check out a Farmer's Market during peak season or even hit up sales at the store when the gettin' is good.
We actually don't live near any peach orchards, as far as I know, but we have a dear friend at our church that treks to another state once a year to pick up cases and cases of fresh peaches from an orchard. Almost everyone at church buys cases of peaches off of her annual trip. And it is so worth it.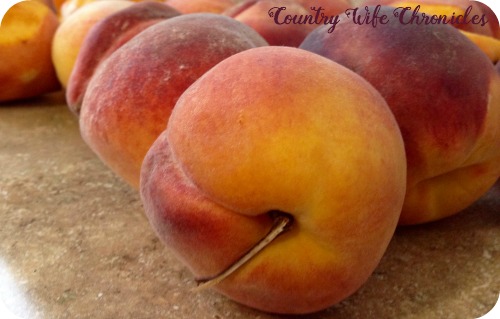 I would say the biggest learning curve for me when attempting to preserve any kind of harvest was understanding and respecting the need for flexibility and time to plan around the harvest. While you can get a general sense of when things will be coming into harvest, you can't know for sure, so inevitably, the cases of peaches will arrive on a weekend where we have something already planned.
I've learned to reschedule when possible and drop all things to preserve the harvest. I'm not going to lie to you, it is not always a quick process. And ripening produce doesn't wait for you.
So if you want to make the most of your harvest and not lose any good produce you just have to be willing to put on the brakes, free up your day, and get to it.
I can promise you it will be worth it when you are able to grab a bag of peaches from the freezer and make a warm peach cobbler in November.
Plus, I have to admit, the whole preserving process, whether it consists of blanching and freezing or canning, can be surprisingly therapeutic.
Freezing Fresh Peaches
All right, so about how to freeze fresh peaches without sugar…let me tell you about Wildland Man and I's experience with this method.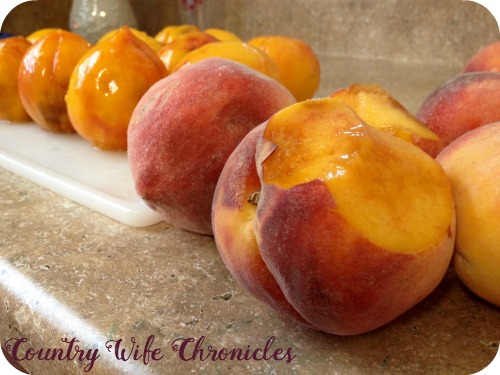 The first step is getting your hands on some fresh and yummy peaches. Ours were very, very ripe, so we had to first remove some bruised spots with a paring knife.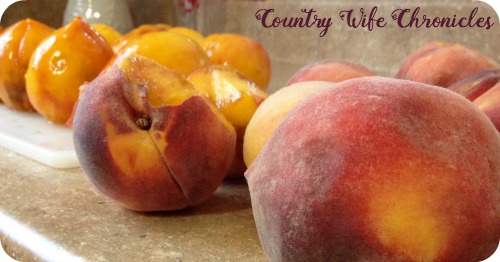 Then we went ahead and prepared the skins for removal by blanching. To do this, you simply cut a small 'X' in the skin at the bottom of the peach.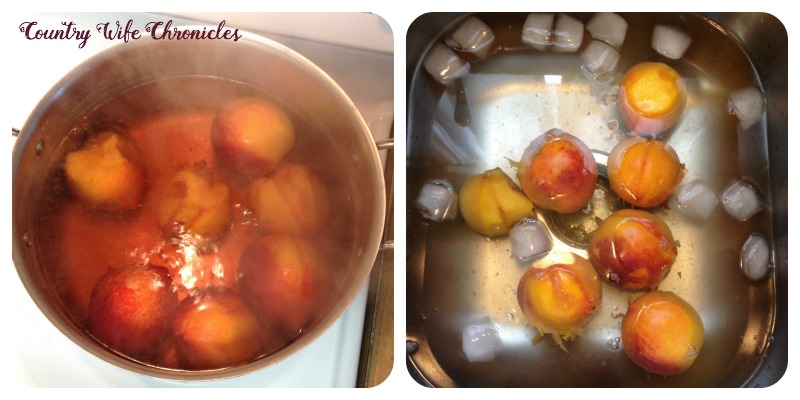 To remove the skins, you'll blanch the peaches in small batches for just a few seconds and then transfer the peaches to an ice bath. It only takes a couple of minutes in cold water for the peaches to be cool enough to handle.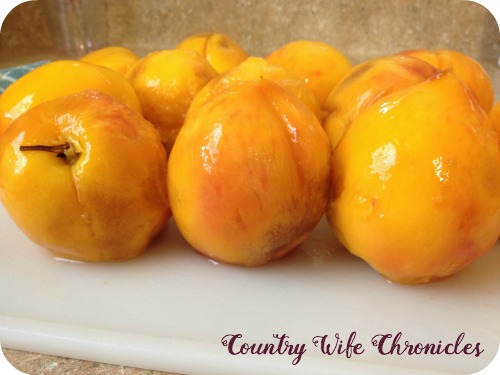 Then you just grab them up and slide the skins right off to leave behind the slimy, juicy inside of the peach to be sliced up for freezing.
At this point you simply remove the pits and slice the peach to desired thickness for freezing.
Of course, this is where you can absolutely steal away some snacks for yourself. They are so irresistibly yummy it's hard not to. I get it.
At this point, a lot of frozen peach recipes will call for some kind of water, juice, or syrup solution to freeze them in.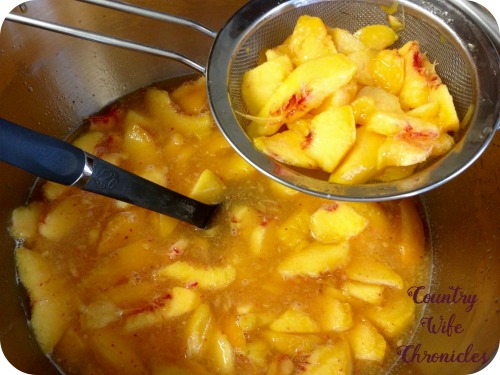 Wildland Man and I were hoping to find a method that didn't use any added sugar when we ran across the blog, Busy Creating Memories, that shared this method of a lemon juice solution to keep the peaches from browning in the freezer.
You simply drop your slices in the solution, let them soak a bit, and then transfer the slices to your cookie sheets for freezing. Super easy.
And super effective. We had no browning whatsoever of our frozen peaches and the lemon juice solution didn't affect the taste at all.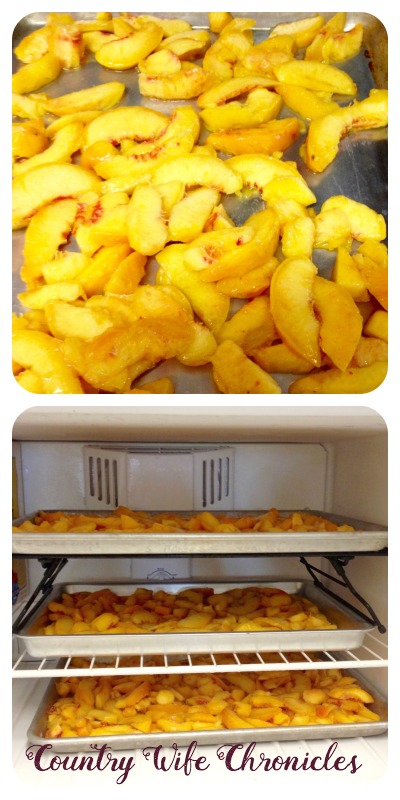 After all this, you simply spread your peach slices on a cookie sheet in a single layer and freeze until solid. Of course, this does require you finding/making room in your freezer for this task.
And trust me, there are times when that can be the most difficult part of this whole preserving process!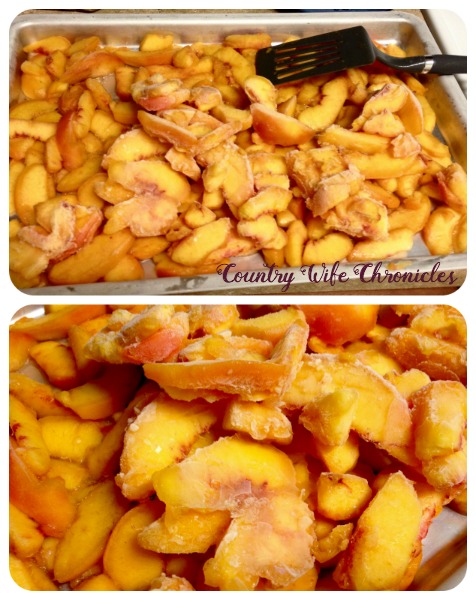 But check out that harvest! Frozen peaches galore!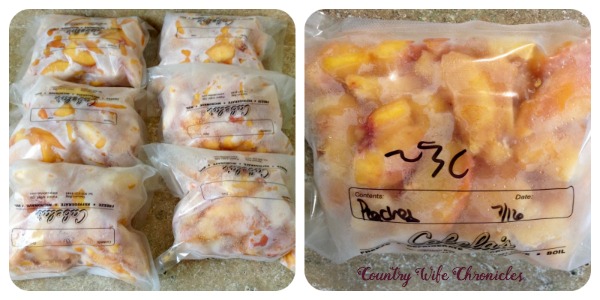 Another tip I mentioned before here on CWC was to invest in a FoodSaver Vacuum Sealing System to help you plan ahead when it comes to meals and grocery shopping. You can see here that we used our FoodSaver and Cabela's Commercial Grade Vacuum-Bags. Our peaches stayed fresh in the freezer for several months without any problem with freezer burn or browning.
Peach Dumplings to Die For
So, what to do with all those frozen peaches? Well, I'm sure you can find some recipes to suit your fancy, but I must share this link from The Pioneer Woman with you.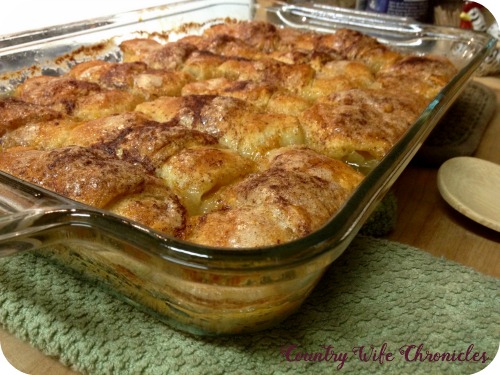 I recall Wildland Man and I first tasting The Pioneer Woman's Apple Dumpling recipe at a church event. It was tantalizingly addicting. Of course I wanted to try it out myself, but all I had was peaches in the freezer. Then I found PW's version for Peach Dumplings. Score!
Ok, I'm not actually sharing the recipe here on the blog because I literally used The Pioneer Woman's exact recipe, well, maybe I cut back on the sugar a bit. These are super-duper sweet.
And I'll admit, if I were to make this recipe again, I'd probably rehab the recipe quite a bit to health-ify it. Perhaps by using homemade whole wheat crescent rolls, grass-fed butter, a lesser amount of unrefined cane sugar, and probably trying to figure out some kind of substitute for the soda.
That might just have to go on my to-do list.
Or, let's be honest, maybe I'll just make them as-is again and count it as a treat! Because they really are great, just not super great for you…
A Little Lagniappe
While we were at it with the peaches I also had some watermelon that was on the verge of going bad, so I experimented.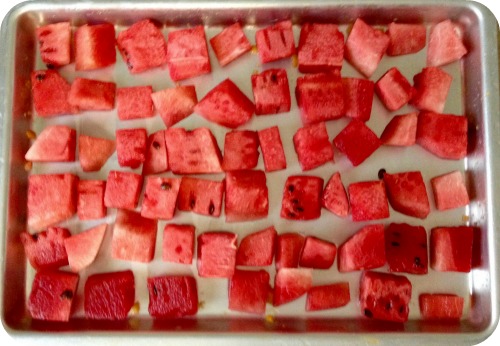 I cubed up the remaining watermelon, placed it on a cookie sheet and threw it in the freezer with the peaches. I didn't mess with any kind of solution soak for it, I didn't even bother seeding it. I planned to use the watermelon in smoothies so I didn't want to put a lot of effort into something that would be getting blended…besides the seeds are just extra fiber (or at least that's what Wildland Man says)!
Anyway, I can tell you that it worked great. My favorite watermelon smoothie was a creamy vanilla almond milk base with watermelon cubes. The verdict? I would absolutely freeze watermelon this way again.
Well, that's all I've got for today, folks. Now it's your turn to share!
I'd love to see more of you, my readers, take a chance and leave a comment for me below. Simply scroll to the bottom of the page and tell me what you think!
If you are in need of some direction, I always include some questions at the bottom of every post. Feel free to choose one to elaborate on. Or just share your own thoughts. Honestly, any feedback is welcomed!
Thanks so much for reading along…y'all make this journey worth the while.
What experiences with preserving the harvest can you share? Do you have any tips when it comes to preserving peaches?

What other recipe ideas do you think would be great with these frozen peaches?

Have you had success in freezing foods and produce for long-term use? What tips can you share?
Be Still & Know…