Are you craving a little something warm and comforting? Because these warm, melt-in-your-mouth moist banana muffins will surely satisfy your craving!
I'm not sure if banana muffins technically qualify as a comfort food, but they sure do in my book! I love piping hot sweet bread taken straight from the oven and slathered with a copious amount of high quality salty butter. Mmmm… The immediately melting butter seeps into all the nooks and crannies and enhances the overall flavor with every single bite. It's quite divine.
There is just something about the warm aroma that banana bread emits as it is baking. It brightens moods, eases anxiety, and just smells of happiness.
A Gluten-Free Journey
We've been on a bit of a gluten-free kick in our house as of late.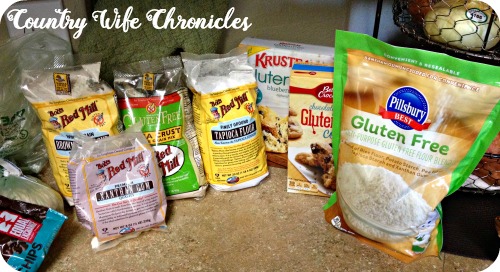 And it has been an adjustment.
I've had friends ask me why I'm trying out gluten-free products and experimenting with GF recipes. And, no, I don't have celiac disease.
But over the last couple of years I've been experiencing some health issues that have led me to believe that perhaps going without gluten might just help to alleviate some of my discomfort. I am hopeful that this will not need to be a lifelong transition, as I'd much rather stick to a real, whole foods diet than have to worry about eliminations and restrictions for the rest of my life.
But for now, it is bye-bye gluten.
And baby steps. Absolutely trial and error.
Really, I kinda stink at restricting specific food groups. I just don't like to be exclusive, I guess 😉 But over the past year, with small steps and planning I'm getting there. And I have to say, I am feeling better. So, for now, I'm thinking the eliminations are worth their while.
Before I share this can't-even-tell-it's-gluten-free banana muffin recipe, I wanted to share a few things I've learned on this gluten-free journey with those that may be interested in experimenting themselves.
It is easiest to grab a 1-to-1 gluten-free flour blend that you can just substitute for regular flour in any 'ole recipe straight away. And these days there are so many to choose from! The ones I have personally tried and recommend are:

Pillsbury Best Multi-Purpose Gluten Free Flour Blend

,

King Arthur Flour Gluten-Free Multi-Purpose Flour

, and

Bob's Red Mill Gluten-Free1-to-1 Baking Flour

.
It is cheaper to make your own GF blend at home…in the long run. But it takes some time, effort and a higher initial investment in purchasing all the individual flours in the beginning. You can read more about making my own blends

here

.
Baking Chips & Healthy Tips
This particular recipe, like most of my kitchen creations, is a complete mash-up of several recipes.
It all started with a recipe from King Arthur Flour, but I've adapted it to include various other aspects I wanted to try from several other recipes I researched in the process.
I need to take a second to remind everyone of my Recipe Creation Disclaimer:
Recipe Creation Disclaimer: I'm a recipe masher. There I said it. I've given it a name and I can no longer be in denial about it. I don't know how it works for me, but I can't seem to take a single recipe and just go with it very often. I like to find 2 or 3 versions of a particular recipe and pick and choose various aspects from each that I love to create my own, personally customized version. Most times, this method creates a perfect concoction of all my favorite flavors and a yummy, delicious recipe that is uniquely mine. Sometimes, it fails…miserably. But when it works, it works…and it is so worth the risk of hodge-podging recipes together in the first place!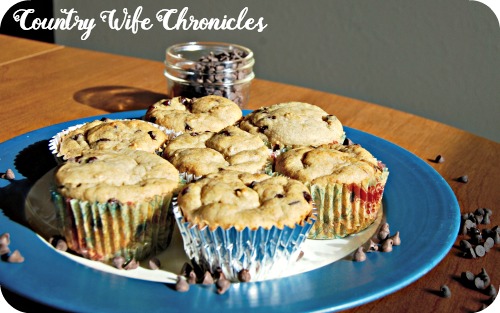 As I am beginning to be a bit more selective of the ingredients in my kitchen I also wanted to take a second to give a shout out to Enjoy Life Foods for the chocolate chips I used in this recipe. These chips are devoid of things such as gluten, dairy, soy, and nuts. They are the most allergy-friendly chocolate chips out there if that is something you are concerned about.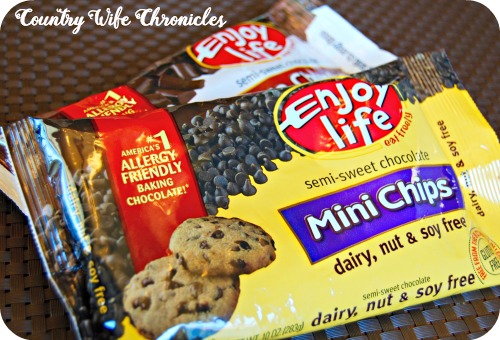 I'm not going to lie. They are on the expensive side. And being frugal while trying to buy high quality ingredients is HARD.
I'll admit, the price tag of higher quality, healthier food options scared me a way for a long while. It took me a very, very long time to feel ok about splurging to try these baking chips out in the first place.
Lately, I've just decided…I'm worth it. I can give up my spending in other areas for better food quality. This is the stuff I put in my body on a daily basis. And I want to take care of this temple.
Now, don't get me wrong, this change did not happen over night. And I'm still a work in progress. My pantry is not fully transitioned to healthy, real food options. I'm too cheap to throw anything out. I'm just replacing things with better options as we run out of them. The struggle is real, but the transition is happening. Slowly.
Ok, now let's discuss this recipe…

I like simplicity. And freezing bananas is easy enough. But I MUST show you this amazing trick! If you don't want to mess with pre-slicing the bananas before freezing or attempting to peel a mushy thawed out banana, this is the trick for you. When your bananas start turning brown, just throw them in a zip bag and freeze. Easy peasy. No slicing. No peeling. Just drop them in a bag as they are and freeze.
Then when you are ready to bake with them, remember to set them out to thaw completely ahead of time. Once they are fully mushy, simply cut off one end with scissors and squeeze the inside banana mush out like a tube of toothpaste. Painless.
And sort of fun. And gross.
But fun.
Gluten-Free Banana Chocolate Chip Muffins
First things first, gather up the ingredients needed for this recipe. I added vanilla, coconut milk, and Greek yogurt to my ripe bananas. These additions really keep this recipe tender and moist.
Then whisk together the dry ingredients.

I should mention that you'll notice xanthan gum on the ingredients list. This is an important ingredient that helps to thicken the batter, but some flour blends already include it in their recipe while others do not. Just be sure to read the ingredients for whatever blend you are using to see if you need to add xanthan gum to this recipe or not.
If you are using one my DIY Gluten-Free Flour Blends, you won't need to add any additional xanthan gum for this recipe.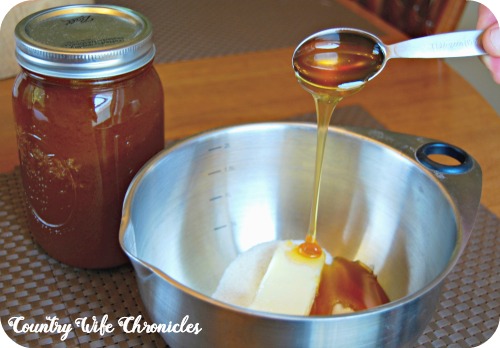 Next, beat together some butter, sugar and honey as the base of the batter. I'm transitioning off the white-stuff and I now purchase a less-refined cane sugar for all my baking needs. You could also use coconut sugar, which I've experimented with, but I really prefer the unrefined cane sugar options available these days.
Then beat in the eggs one at a time, followed by alternately adding in the dry ingredients with the banana mixture to the batter.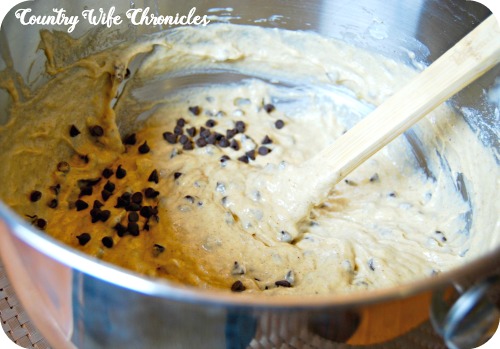 Once the batter is all combined, it is time to fold in the chocolate chips. I went with mini chocolate chips this time and I really liked the outcome with this recipe. Every bite of every muffin has chocolate goodness in it with the minis!
A hint: Don't be shy when filling your muffin tins with this batter. The batter will rise up over the rim while baking, but it settles back down when cooling. If you don't fill your muffin tins up to the tippy-top they'll seem short and squatty when it is all said and done.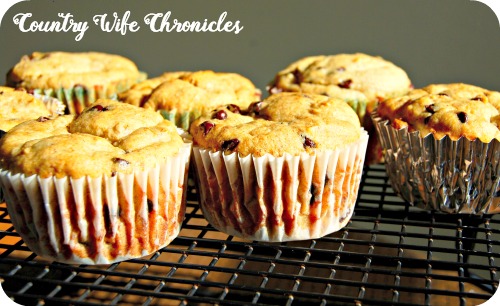 After baking at 350°F for about 20-25 minutes, pull these babies out and let them cool a bit before grabbing your butter and going to town on their melty, chocolaty, warm goodness.
The hardest part of the whole recipe. I know.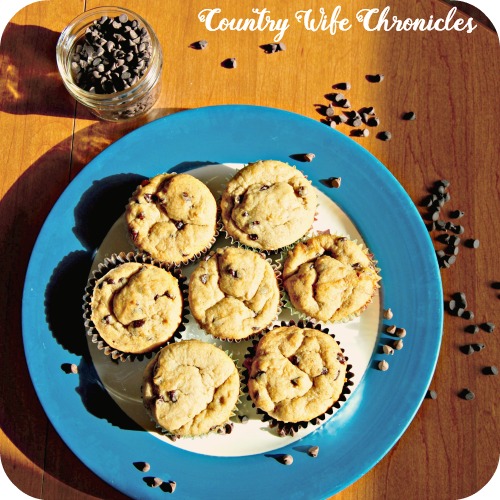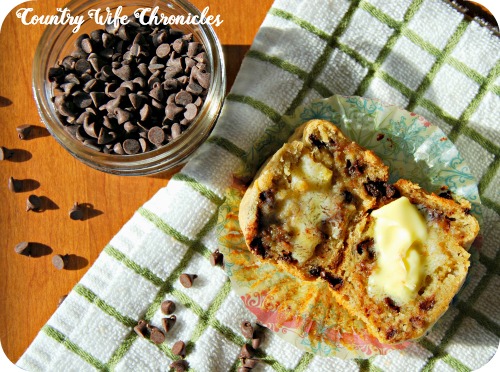 And case-in-point for calling banana muffins comfort food: today, as I type this post, it is raining like crazy outside. All gloomy and dreary. And I'm sitting here crafting my post while sipping on hot tea and enjoying a hot, buttered banana chocolate chip muffin. If that's not the definition of comfort food, I'm not sure what is.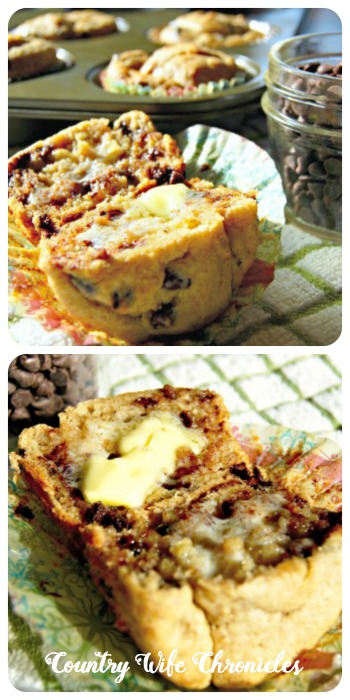 Enjoy!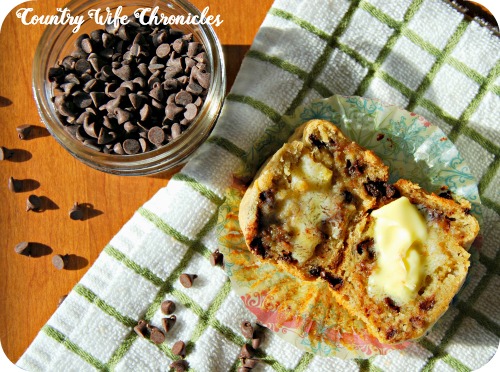 Gluten-Free Banana Chocolate Chip Muffins
2017-06-04 12:17:13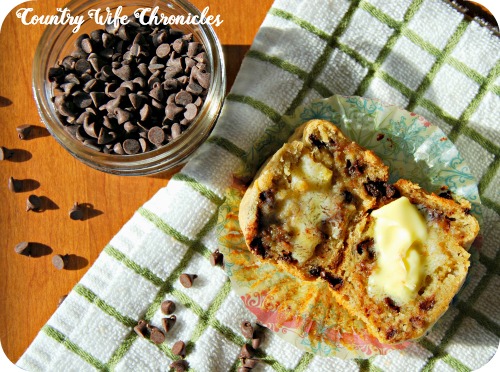 A yummy, can't-believe-it's-gluten-free banana muffin for the whole family to enjoy! A perfect light start to the day or a wonderfully warm treat on a chilly afternoon. Give them a try, you just may be surprised with this gluten-free delectable treat...
Ingredients
2-3 very ripe bananas
1 tsp. vanilla
2 Tbsp. almond milk or regular milk
1/2 cup Greek yogurt
1 1/2 tsp. baking powder
1/2 tsp. baking soda
1/2 tsp. xanthan gum (if not already included in gluten-free flour blend)
1/4 tsp. salt
1/2 tsp. cinnamon
2 cups gluten-free flour blend
1/2 cup softened butter
1/2 cup unrefined sugar
3 Tbsp. honey
2 large eggs at room temperature
1 cup chocolate chips
Instructions
Preheat oven to 350°F and grease muffin tins, or line the pan with papers and grease the papers.
Combine the banana, vanilla, milk and Greek yogurt in a bowl and mash together until thoroughly blended.
Whisk together the baking powder, baking soda, salt, cinnamon, and gluten-free flour and/or xanthan gum in a separate bowl and set aside.
Beat together the soft butter, sugar and honey in a mixer.
Add in the eggs, one at a time, and beat to combine. Be sure to scrape down the sides of the bowl between each addition.
Add the dry ingredients, alternating with the banana mixture, to the batter in your mixer over three additions. Be sure to beat each addition well and scrape down the sides of the bowl each time.
After everything is added, beat on medium high speed for another 30 seconds to smooth out the batter.
Fold in the chocolate chips.
Scoop the batter into the muffin tins. Be sure to fill each tin completely to the top, as the dough will rise and then settle back down as they cool.
Bake for 20-25 minutes, until the middle springs back and a toothpick comes out clean when inserted. Let rest in muffin tins for 5 minutes before removing muffins to a cooling rack to cool completely. (Or at least long enough to handle, butter, and indulge.)
Notes
Feel free to top these with cinnamon sugar before baking.
These muffins are definitely best served warm with lots of delicious buttah!
Storage
These muffins can be kept in an airtight container for a few days. Most gluten-free products don't have as stable of a shelf life as regular flour products. You may need to move them to the refrigerator after a few days on the counter. (Or just eat 'em quicker! ☺)
Adapted from King Arthur Flour
Country Wife Chronicles https://www.countrywifechronicles.com/
Be Still & Know…