In an attempt to try out some gluten-free (GF) baking recipes, I've been exploring GF flour blends. Ok, if I'm being honest, after reading a bit about some digestive issues I was suffering from I decided that maybe gluten was having an impact on my intestinal tract. So, in a confident, "I'm going to get healthy" moment I splurged and bought a gigantic bag of coconut flour from Sam's Club…thinking it would work for a straight up 1-to-1 switch out for all-purpose flour. No, nope, not really. Unless you are going for super-flat and sawdust grit in your recipes. Just sayin'.
Needless to say this massive fail on my part definitely got me thinking that maybe eating healthy sweets just isn't meant to taste good. So I shoved the coconut flour to the back of my cabinet after a few disappointing recipe attempts and went back to my usual ingredients.
Misadventures in Gluten-Free Flours
After learning that coconut flour is best as part of a gluten-free flour blend I decided to see what the difference could be, if any. I splurged again and bought a few different gluten-free cookie and muffin mixes to see if they could remotely resemble something yummy. And to my surprise, they did! Now, mind you, these were merely gluten-free, still pretty sugar-laden and definitely not Paleo approved. But still a better option for my gut. And more than just edible, actually pretty darn good!
So, next stop…gluten-free flour blend. I first bought one by Pillsbury to try out with my own recipes and again, I was pleasantly surprised. I began to regain some hope for the gargantuan bag of coconut flour sitting at the back of my cupboard. I did some homework on gluten-free flour blends containing coconut flour online and found several recipes, but none of them were consistent. I guess the variety could be nice for some people, but for me, I just found it even more confusing. Then I stumbled upon Gluten Free Girl's explanation of how to make your own gluten-free flour blend. I have to give this girl a shout-out because her post cleared it all up for me and allowed me to rummage through what I had on hand and how I could combine them to get a gluten-free flour blend all my own.
But I should warn you—this little quest to create a coconut flour blend did require me to go out and purchase additional gluten-free flours that I didn't have already, and they ain't cheap; but making your own gluten-free flour blend is significantly cheaper than buying one off the shelf. I came up with two different recipes based on my new knowledge of gluten-free flours and so far am pleased with both of them. However, each recipe calls for only a small amount of coconut flour, so although I have been able to use these blends successfully in recipes and it is dwindling my huge bag of coconut flour down, it's going to take awhile.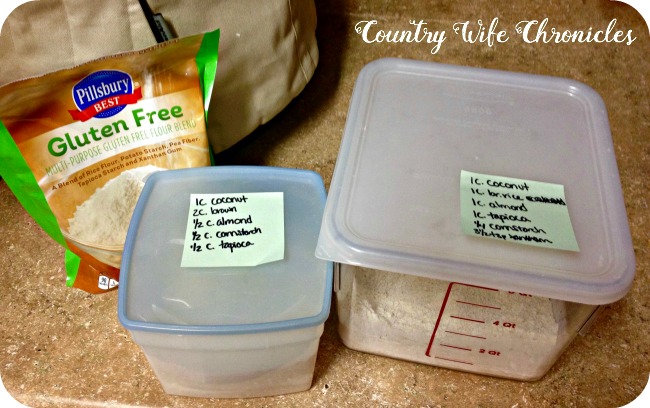 Here's the recipes:
Gluten-Free Flour Blend #1
1 cup coconut flour
2 cups brown rice flour
½ cup almond flour
½ cup cornstarch
½ cup tapioca flour
Gluten-Free Flour Blend #2
1 cup coconut flour
1 cup brown rice flour
1 cup almond flour
1 cup tapioca flour
¼ cup cornstarch
3 ½ teaspoons xanthan gum
If you want to substitute any of these flours for your personal gluten-free flour blend, be sure to check out Gluten Free Girl's blog for some guidance. I'm definitely not a pro at this, and her post really helped me know where I could substitute different types of GF flours and what the ratios should be. When I'm finished with these two gluten-free flour blends I intend to make a bigger batch of just one to try to go through more of the coconut flour I feel like I'll have for eternity.
So what's the motto of this little misadventure into gluten-free flour blends? Don't buy ingredients you are unfamiliar with in a fix-all attempt to start living healthier at a warehouse grocer. Just start smaller, please, you can thank me later.
I hope I have saved you from a similar fate as I in my introduction to gluten-free flour. It has been a learning experience and I am getting some good gluten-free baking in, but I'm thinking this could have all been done in a little simpler fashion…next time. I hope.
Happy GF Baking!
Be Still & Know…