I heart s'mores. I mean really, truly, love the yummy combination of chocolate, mallow, and graham. My mouth is watering just thinking about the flavors (insert long, satisfying sigh here).
S'mores have been a summertime favorite for us on the fire pit, as I'm sure most of you might also agree. But what about the other seasons of the year? Why should we forget about these delectable treats in the cold and frosty days of winter?
The answer: we don't have to. S'mores Casserole—made right in your oven. Now you can add some warmth to your kitchen with a hot oven and send the tantalizing smell of s'mores throughout the house! What a perfect pairing with hot cocoa on a cold afternoon! (Are you convinced to go try this recipe yet?)
So, let's get to the nitty gritty of this recipe. First of all, a couple disclaimers:
Recipe Creation Disclaimer: I'm a recipe masher. There I said it. I've given it a name and I can no longer be in denial about it. I don't know how it works for me, but I just can't seem to take a single recipe and just go with it very often. I like to find 2 or 3 versions of a particular recipe and pick and choose various aspects from each that I love to create my own, personally customized version. Most times, this method creates a perfect concoction of all my favorite flavors and a yummy, delicious recipe that is uniquely mine. Sometimes, it fails…miserably. But when it works, it works…and it is so worth the risk of hodge-podging recipes together in the first place!
Photo Quality Disclaimer: My photos are not great. They. Just. Aren't. Sorry. We live a pretty frugal lifestyle and at the time of this recipe experiment the only camera equipment I had was an iPod. No flash. Gritty and out of focus results. What's a girl to do? I guess just take pictures anyway and hope for the best. So, first off, I apologize if the photos don't come across as appetizing as they should. I wish you could have been in the kitchen to witness this creation in person. And, second, I challenge any of my readers to test this recipe out in their own kitchen and take beautiful pictures of the entire process. If you send me your photos, I'll happily trade mine out for yours and give you photo credit on my blog.
Ok, the recipe…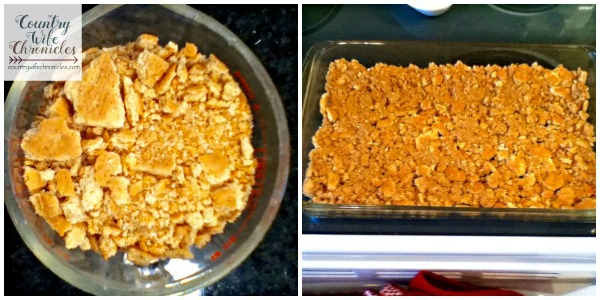 The first step is to prepare the graham butter crust…I honestly think I could just snack on this and be content. Anyway, spray your pan and preheat your oven to 350°, then chop up your graham crackers in a food processor to crumb consistency, although I like mine a little chunkier than crumby. Add in your sugar and melted butter and press into the bottom of the pan. Pop in the oven for a quick 5 minutes while you move on to the brownie batter.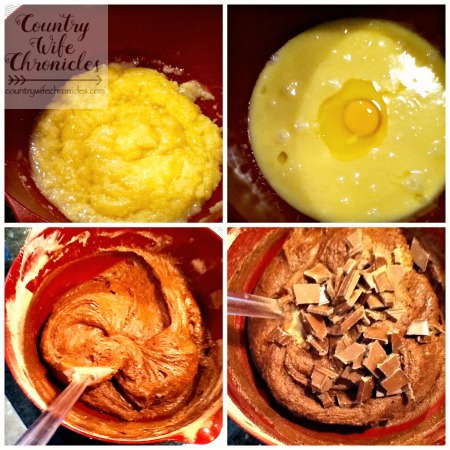 The next step of this recipe is to whip up a fudge brownie batter…again, I could just lick the spoon and bowl here and find contentment. I'm sensing a pattern… Anyway, this brownie batter is uber-chocolatey, with cocoa, and chocolate chips and Hershey's bars….mmmmm, chocolate overload (I mean, is there even really such a thing?). I almost always prefer dark chocolate chips in my recipes, and in this recipe it gives a nice complimentary flavor to the milk chocolate in the bars.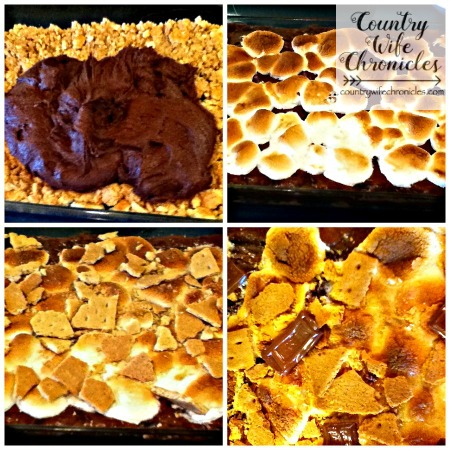 Once you've got your brownie batter finished, it is time to put all the layers together. The brownie batter layers over the graham crust, which gets topped with marshmallows, crumbled graham crackers, and more Hershey's bar pieces. One giant, fun-loving casserole-dish size s'more! Of course, the details are in the recipe below, but there is some baking of each layer in the oven before it is officially done. You can totally bake this recipe to your liking. I like a gooey brownie, so I don't bake that layer quite as long. I also really prefer my toasted mallows to be a nice charred black–so if I were to do this recipe again and I wasn't inviting anyone over, I'd probably go a lot longer on my marshmallow toasting. Wildland Man didn't think that would look very appetizing for my blog, however. But if you are a black, on-fire kind of marshmallow gal, you feel me.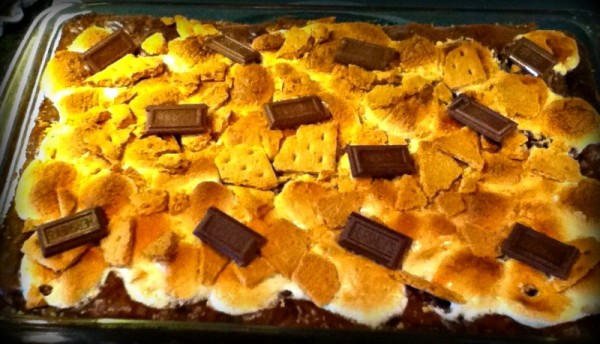 And here is your finished product. Yum. Time to devour, grab a fork and go at it. A little known secret about me, I'm not hugely into cake. I'd rather have ice cream, or pie or brownies, or chewy cookies for my birthday. So, I'm thinking next birthday this could be a nice option. Another secret, I've been known to eat my birthday treat straight out of the pan while in bed watching a movie, just sayin'…no judgment here if you decide to forgo the plate and sharing with this recipe!
One more thought…have you ever tried s'mores with a nontraditional chocolate, like trading out the Hershey bar for a Reese's peanut butter cup? or Rolos? or Twix? or Ghirardelli caramel-filled dark chocolates? These are all amazing swaps that I've tried in a traditional s'more over the fire pit. But I would guess one could also make these swaps in this recipe for a different kind of s'more casserole. Let me know if you test out any of these options and how it turns out! Delish, I'm sure.
Be Still & Know…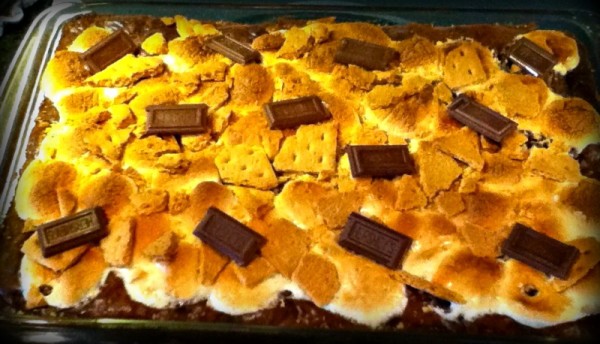 S'mores Casserole
2016-04-27 09:20:54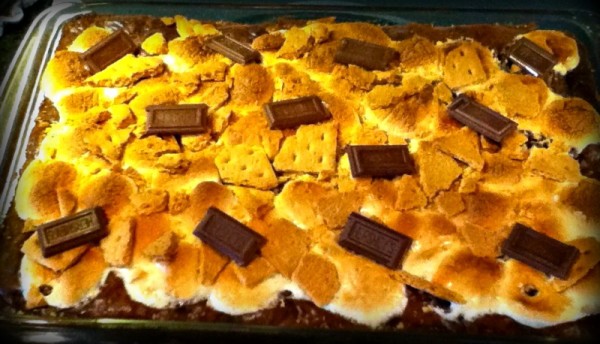 Ooey, gooey chocolate and marshmallow goodness with a graham and brownie base. An easy indoor, any-season version of your favorite summer campfire treat!
Graham Cracker Crust
1 cup melted butter
3 1/2 cups crushed graham cracker
1/4 cup sugar
For the S'mores Casserole
1 cup melted butter
3 cups sugar
1 Tbs vanilla
4 eggs
1 1/2 cups sifted flour
1 cup cocoa
1 tsp salt
1/2 cup chocolate chips
1/2 cup chocolate bar pieces
1 bag of marshmallows
a few extra graham crackers and chocolate bar pieces for topping
Instructions
Spray a 9x13 glass dish and preheat the oven to 350°F.
Chop the graham crackers in a food processor to a fine crumb consistency. Add sugar and pulse a couple more times. Pour the graham/sugar mixture into a bowl and add melted butter, stirring together.
Press crumb crust into the bottom of the sprayed 9x13 dish and bake for 5 minutes in the oven.
While the crumb crust is baking, mix together a fudge brownie batter by combining 1 cup of melted butter with the sugar with 3 cups of sugar and the vanilla in a medium bowl. Add in eggs one at a time, blending after each addition.
In a separate bowl, stir together sifted flour, cocoa and salt. Stir the dry ingredients into the wet ingredients and add in chocolate chips and chocolate bar pieces.
Pour the brownie batter over the graham crust and bake the brownie mix at 350°F for 20 minutes or so, until almost done. Be aware that the brownies go back in the oven with additional layers, so they should not be completely done at this point.
Press marshmallows over the top and return to the oven for an additional 5-10 minutes, broiling for the last 30 seconds to give a nice toasted look to the mallows.
Add extra crumbled graham crackers and return to the oven for one last time for about 3-5 minutes, just enough for the crackers to melt into the marshmallows a bit.
Top with extra chocolate bar pieces before serving.
Notes
This recipe is meant to be baked to your liking, so the times are all fairly fluid. If you like a crispier brownie, bake a little longer, if you like your brownie fudgy, then reduce the time in the oven. Same goes for the marshmallow layer, bake as long or as little as you desire!
Adapted from Country Wife Chronicles
Country Wife Chronicles https://www.countrywifechronicles.com/