Those that know me well; know that I have a slight obsession with Christmas. I relish this season of hope, peace, and love. I love the warm and cozy smells of the holidays, the crackling fireplaces, the fresh-fallen blanket of snow…these things awaken my senses and nourish my soul.
I bust out all my favorite Christmas movies, put my Christmas playlists on a constant repeat cycle, and I spend a whole lotta time in the kitchen. I love to bake, and the holidays, for me, just equate baking love.
Christmas Goodies for Giving
Christmas has always been more about the giving than receiving for me, even as a kid, I loved to dream up great gift ideas for friends, family, teachers, and classmates. I feel like giving gifts, even small, frugal finds, is one of the best ways to spread Christmas cheer…besides, of course, singing loud for all to hear! 😉 Elf is, for sure, a Christmas movie staple around here.
So, every year, after Thanksgiving, I set out on a mission to come up with treats to bake for giving to neighbors and friends around Christmas time. I am not much for making the same recipes over and over again so I like to change it up every year. And this year, I hit a homerun with this find on Cookie Madness's blog for Pecan Pretzel Caramel Corn.
I was specifically searching for recipes that could utilize pecans as we had just harvested a fair amount from the trees in our backyard. I wanted to highlight this seasonal fresh ingredient in all the recipes I made over the holidays. Thus far, I have experimented with a couple different cookie recipes, this popcorn recipe, and of course I had to make some candied pecans with these beauties! Yum!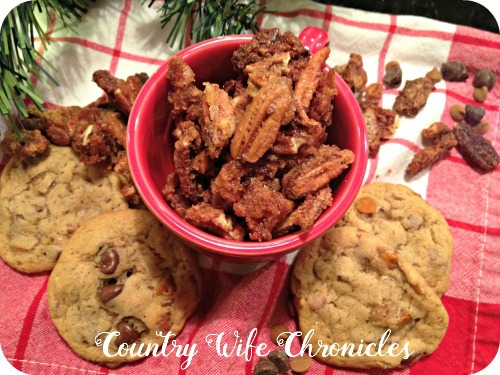 Big Batch Pecan Caramel Popcorn
So, this popcorn…let me tell you…crisp, crunchy, sweet and nutty. It really has a lot going for it. And I really didn't adjust the original recipe at all, which is saying something for a self-proclaimed recipe-masher like myself. The only thing I did do was make some adjustments for it to be a big batch to fill my gift giving quota.
The first thing you'll need to do is pop a bunch of popcorn. It helps if you have an air popper as you can do more volume a little quicker, but in my case, I happened to have a couple boxes of Boy Scouts Trails End popcorn that I wasn't going through very fast. Once you get your popcorn popped you can mix in your pretzel chunks and pecans and spread it all out on a couple of greased baking sheets. Then go ahead and preheat your oven to 250°F.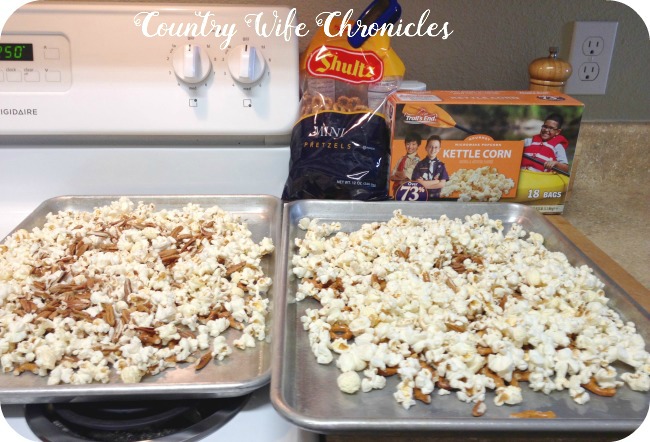 Next, you'll need to make your caramel sauce by combining the butter, both sugars, salt and corn syrup in a saucepan and brining it up to a boil. This is a quick and easy sauce, but you do need to watch it to not let it get away from you. It's also fun, especially when you add the baking soda at the end and watch it bubble up like crazy!

Once the caramel sauce is ready to go, immediately pour it over your trays of popcorn and stir to get as much of the popcorn mix coated as possible. You will be stirring these periodically as they bake so you should be able to get all the pieces deliciously caramelized by the end.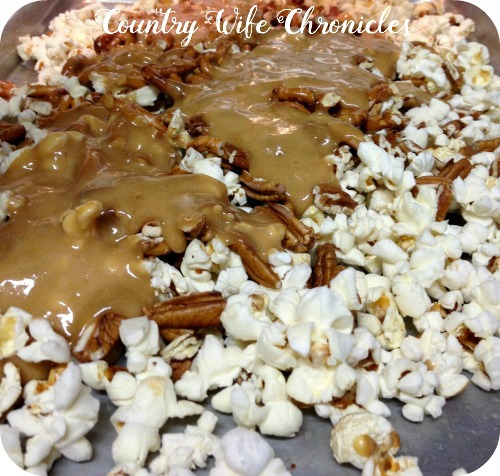 Finally, pop the trays in the oven for an hour at 250°F, stirring every 20 minutes to loosen it up and get every little morsel generously coated with buttery, caramelly goodness.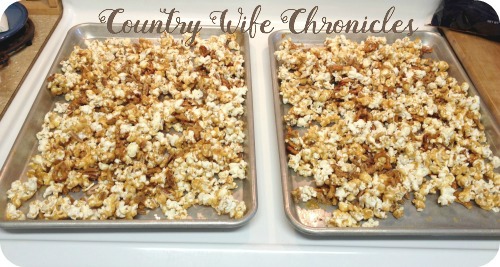 Once the Pecan Pretzel Caramel Popcorn has completely cooled, it is time to start assembling it for gift giving. I just zip-bagged generous portions, added some festive M&M's, and packaged it in a pretty bag with some twine to tie it off.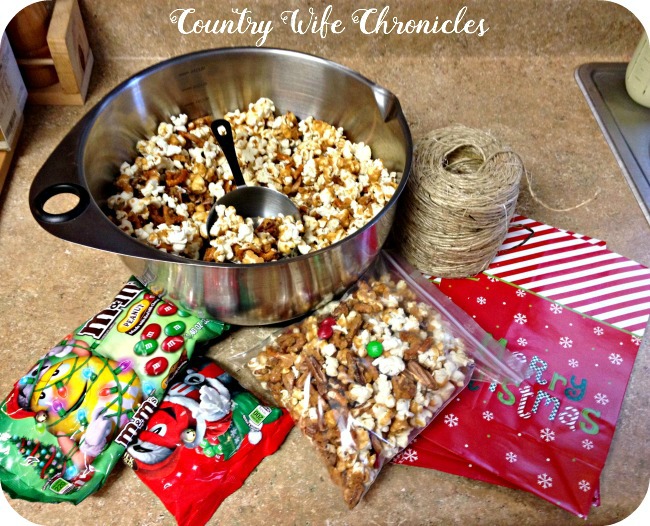 Add in a few other Christmas goodies and you've got yourself quite the gifting stash for neighbors, church folk, friends and family.

Ahh, Christmas…'Tis the season for baking!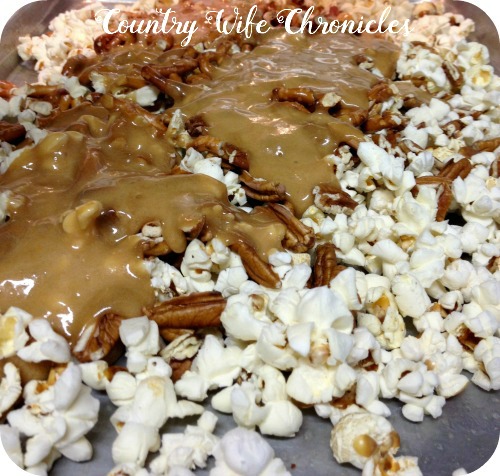 Big Batch Pecan Caramel Popcorn
2017-01-19 12:17:20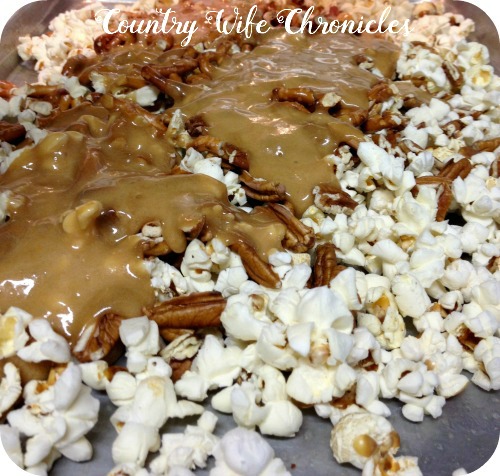 A crispy, crunchy snack with buttery caramel flavor and fresh pecans. A great treat for gift-giving!
Ingredients
16 cups popped popcorn
1 1/2 cups pecan halves and pieces
3-4 handfuls of pretzel chunks
8 Tbs. unsalted butter, cut up into chunks and softened to room temperature
1/2 cup brown sugar
1/2 cup white sugar
1/2 tsp. salt (omit if using salted butter)
4 Tbs. corn syrup (light or dark is fine)
1 tsp. vanilla
1/2 tsp. baking soda
Instructions
Preheat oven to 250°F and grease two baking sheets.
Mix together popped popcorn, pecans and pretzels in a large mixing bowl and spread out onto the two baking sheets. Be sure to weed out any old maids (un-popped kernels) at this point, or suffer the pain of a broken tooth at your own peril. 🙂
Combine butter, brown sugar, white sugar, salt, and corn syrup in a saucepan and bring to a steady boil. Continue boiling for 3 minutes without stirring.
Remove from heat and stir in baking soda and vanilla.
Pour mixture evenly over two baking trays of popcorn mix and stir to coat as much of the pieces as possible.
Bake both trays for 1 hour, stirring every 20 minutes.
Allow to cool completely.
Notes
I actually made two batches of this big batch recipe, which works nicely as this recipe will make two cookie sheets of Pecan Pretzel Caramel Popcorn at a time. As the popcorn is cooling, you can wash up everything and get ready for round #2 of baking.
www.countrywifechronicles.com
Original blog post URL: http://www.cookiemadness.net/2014/12/pecan-pretzel-caramel-corn/
Adapted from http://cookiemadness.net
Adapted from http://cookiemadness.net
Country Wife Chronicles https://www.countrywifechronicles.com/