It was actually a couple of years ago, I guess, that I borrowed the book 100 Days of Real Food from our local library. I was trying to get on a health kick and I was just…so tired of dieting. The restriction and regulations, the "on the wagon, off the wagon" again approach. I was just so done with it all.
This real food concept seemed manageable. Simple and easy to balance when life gets real, and it always does, with busy days and improvised schedules.
I had come to a place in my life where I wasn't necessarily working towards a weight loss goal per se; I just wanted to feel better. And real food…well, it seems like choosing real, whole foods feeds me the very best foods this earth has to offer. And nothing is off-limits, not really. Whatever it is that I'm craving just needs to use real, unprocessed, high quality ingredients. Be it brownies, a steak, or even a green salad.
Why Real Food?
As I perused the pages of 100 Days of Real Food by Lisa Leake, I began to feel inspired and excited. Rather than feeling restricted in what I could eat, I realized that I could potentially craft all of my favorite recipes with better, real-food ingredient options and still enjoy them! Freedom!
Once I was on board with this real food concept I started doing what I do, I researched more information on this way of eating. Clean eating, real food, whole foods, however you say it, we are speaking the same language. Food and ingredients that are closest to their natural state and minimally processed.
I came across a couple other websites in my research that I still frequent for real food inspiration: Weed 'Em & Reap and Live Simply. These sites, as well as 100 Days of Real Food, are worth checking out if you are intrigued by this real food notion and want to dig a little deeper than I'm going to go today.
Personally, I'd be lying if I said there was no learning curve involved, no change in how to grocery shop or what to look for. But it doesn't feel that foreign or absurd to be searching for top-notch ingredients that I plan to ingest. I mean, I'd prefer to pronounce the ingredients I'm putting in my body, wouldn't you?
Real food doesn't feel like a fad, it just makes sense. It is simply raising the bar on what I feel comfortable putting in my body. Now don't get me wrong, I grew up on Pop-Tarts and Froot Loops…and I loved them. So there was certainly a mindset shift that had to take place in order for me to buy into real food eating. There was a time when I could claim ignorance to the impact of junk food on my health, but I can no longer do that. You see, I just can't unlearn how amazingly good real food is for my body and my health.
I've shared a bit more insight into how I plan meals and grocery shop these days with a couple other posts here on CWC. They might just help you get started if you are looking to make the shift to real food too:
What is Real Food?
As I mentioned before, real food (or clean eating, or whole foods…) is minimally processed. That means no artificial colors, flavors, or sweeteners. No hydrogenated oils or junky ingredients you can't pronounce. In fact, very few ingredients are usually listed on real food products. And they should all be things you know…onion, tomatoes, garlic, etc. No aspartame, no high fructose corn syrup, no monosodium glutamate, no sodium sulfite or nitrate, no sulfur dioxide, no potassium bromate, or any other disodium-poly-whatevers. Ingredient lists shouldn't be a chemistry lesson.
Real food is nourishing to our bodies, eaten as it was meant to be eaten, in it's closer-to-nature state.
Here are some amazing resources from the blogs I've already mentioned that have guided me on this real food journey of mine. These links provide a more detailed definition of real food. Check 'em out for the specifics:
I definitely don't consider myself an expert in real food or nutrition. Not even close. But I can attest to how much better I feel when I choose to eat real, whole foods. I can tell you I love to cook, bake, and create with real food ingredients. I am kind of relishing the challenge of recreating my favorite recipes with quality real food ingredient substitutes.
I still consider myself a newbie in this realm of real food, but I hope that sharing my real food journey with you might inspire you and maybe, just maybe, even teach you something you didn't know.
This is just me, living my real life while finding a way for real food to be a major player in it. Maybe not 100% of the time, but at least the vast majority. (Case in Point: Last week's recipe, not so much. This week's recipe, for sure!)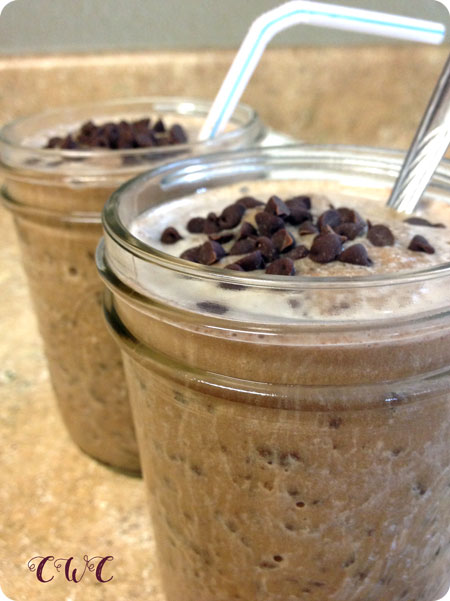 So, I thought it would be fitting to end today's post with a quick and easy real food recipe for you. Here's my take on a coffee protein shake, a great pick-me-up breakfast for a busy morning.
But, first let me clarify…I don't want the fact that I'm sharing a smoothie recipe with you today lead you to believe that real food is all salads and shakes. Not in the very least. This was just a recent recipe I did that is quick, easy, and super yummy. It simply checks all the boxes.
But to give you an idea…here are some other real food recipes we are enjoying this week:
BBQ Stuffed Bell Peppers
Honey Spiced Tea and Dark Chocolate Granola
Sweet Corn and Fajita Chicken
Smoked Brisket Chili
Is it apparent that we have some leftover BBQ meat on hand this week? 🙂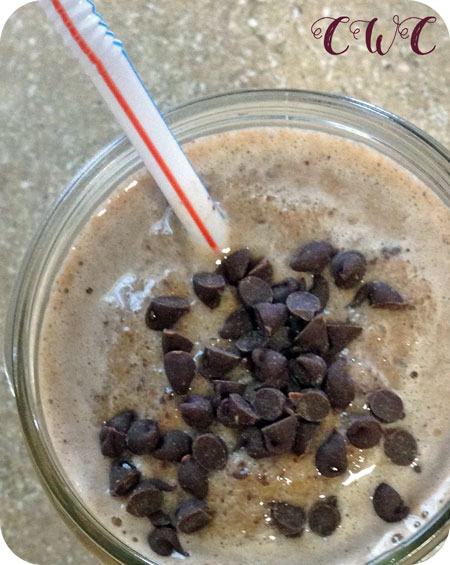 Anyway, back to this shake. Protein-packed, low in sugar, and a coffee-lovers dream. This shake makes for a great snack and is perfect for those warmer fall days when a pumpkin spice latte is just too hot to drink.
Feel free to change up this recipe to your liking. You can use protein powder or Greek yogurt as your protein base. If you are going with powder, here's a real food protein powder option you can try. You could up the mocha-ness of this by adding in some cocoa powder or even some homemade caramel sauce made with real food ingredients if you so desire.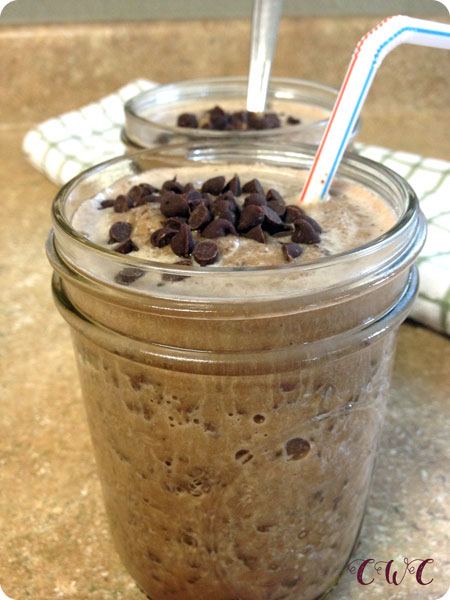 By the way, have I told you how much I love Mason jars? Oh, yeah, that's right, I have…(Fall Mason Jar Decor) But, honestly, how cute does this smoothie look in a Mason jar? Love…
Check out the recipe in its entirety below and get your real food fix on! Of course, if you are wanting something more substantial, throw in some uncured bacon and pastured eggs with a little raw milk and you have yourself a very filling, hearty real food breakfast!
Care to share your thoughts? I'd love to hear more of what you think on this topic.
Are you a real food foodie? If so, why? If not, why not? I'd love to get your perspective on the real food movement.

What does real food mean to you? What would a real food meal look like at your house?

Are you stuck in a diet mentality? How can the real food way of thinking get you out of the diet rut?
Thanks for reading along today…real food is still pretty new to me, but I'm excited to be on board and hope you don't mind me sharing this journey with you as I navigate it on Country Wife Chronicles!
Be Still & Know…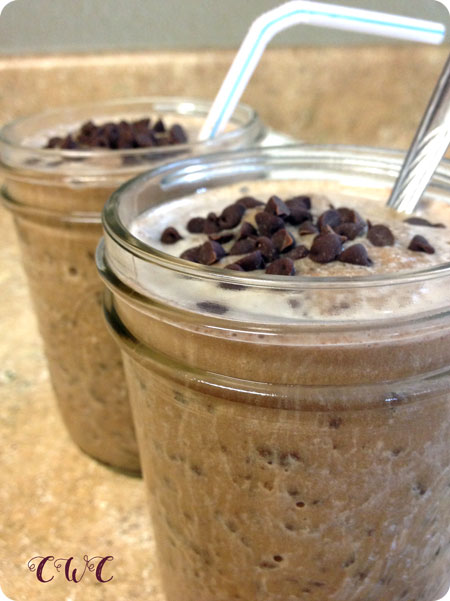 Coffee Protein Shake
2017-10-18 14:47:47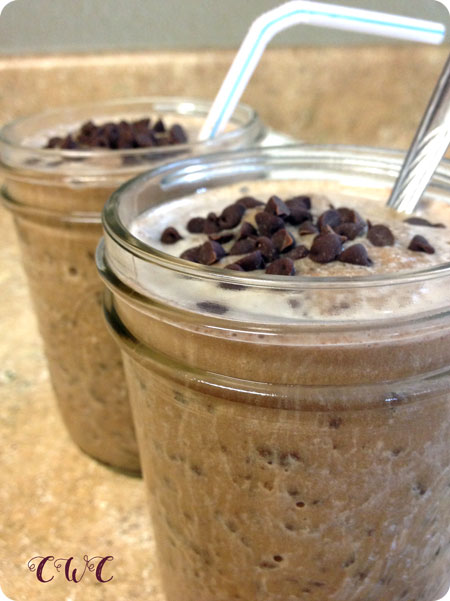 A coffee-lovers dream protein shake!
Ingredients
½ to 1 frozen banana (depends on desired banana flavor)
1/3 cup plain Greek yogurt
½ tsp. pure vanilla extract
2/3 cup almond milk
1 cup coffee, chilled
½ cup ice (add more to achieve preferred consistency)
1-2 Tbsp. organic chocolate chips
1-2 Tbsp. maple syrup
Instructions
Combine all ingredients in a blender. Blend to desired consistency and enjoy!
Notes
Feel free to adjust this recipe to your desired taste and consistency. Add more ice, less banana. Add in cocoa powder for a mocha flavor. Increase the vanilla. This recipe is really just a guideline for your own personal creation!
Adapted from Country Wife Chronicles
Country Wife Chronicles https://www.countrywifechronicles.com/