Do me a favor. Stop for a moment and think about the vows you said on your wedding day. Were they traditional vows? Did you write your own vows? Do you remember them?
What did you promise?
Do you still mean it? Do you still practice it? Do you live out these promises in your marriage today?
Let me take it a step further…
…hold up, I know what you are thinking.
"Well, it's not like my husband lives them out either."
"This is just how marriage looks after awhile."
So, I'm going to be honest here. And a bit harsh. I'm not talking about your husband right now. I'm asking you.
For the sake of simplicity, let's take a look at the traditional vows said at most wedding ceremonies.
They speak of loving, comforting, and honoring your spouse. In sickness and in health, remaining faithful to him, 'til death, do you part.
They covenant sharing the future, giving and receiving, speaking and listening, inspiring and encouraging. They promise loyalty and commitment.
I recall the words our Pastor read to Wildland Man and I just before presenting us as husband and wife:
"You have committed yourselves to each other

In this joyous and sacred covenant.

Become one. Fulfill your promises.

Love and serve God, honor Christ and each other,

And rejoice in the power of the Holy Spirit."
Now, I am in NO WAY implying that I have fulfilled my promises to Wildland Man without any fault or disregard. No, in fact, I'm certain there have been times where I pretty much ignored them completely.
That's marriage, right? I used to think so. That's sort of what the world and culture tells us these days.
Until, one day, I decided not to listen to what the world was telling me about marriage.
I decided my promises were worth keeping. And I dug into the Bible and recommitted to my role as a Christian wife.

A Wife on Fire for her marriage. A Wife on Fire for her husband.
Marriage on Fire
Are you committed to having a Marriage on Fire? A marriage that is built on enduring love and founded in faith? A marriage that fulfills vows and promises. An everlasting commitment of effort and intentionality?
Your marriage deserves the time and energy necessary to nurture it, grow it, and embolden it to a deeper level with each passing year.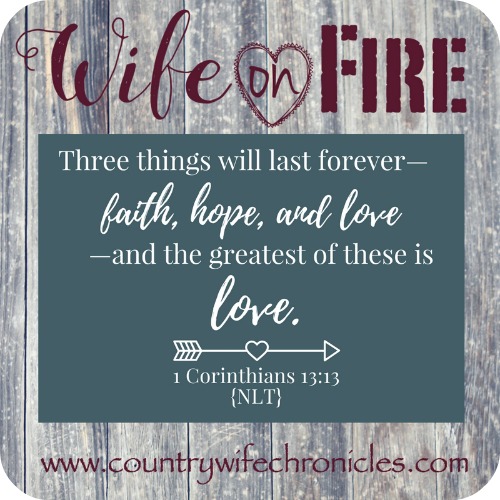 You deserve a marriage that shines of lasting happiness. You deserve a marriage that doesn't die.
So this is my call to keep the romance alive.
I don't pretend to have all the answers. But I do have a never-give-up attitude, especially when it comes to my marriage. I am committed to having a Marriage on Fire.
And it is NOT always easy. It takes work. Marriage is the definition of labor of love.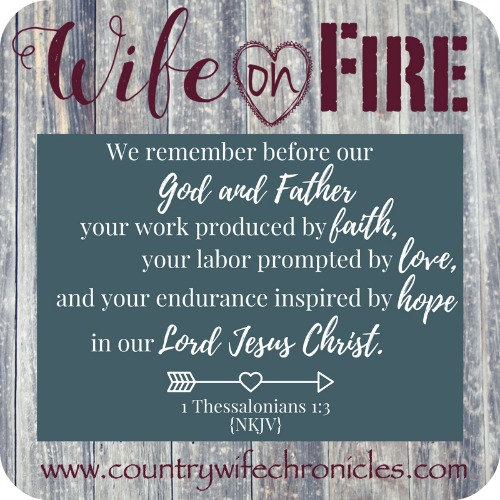 Wife on Fire Challenge
Ok, so you are on board. You want in. Now what?
Now, I challenge you.
I challenge you to fulfill your role as a Wife on Fire.
I challenge you to make intentional efforts for your marriage on a daily basis.
I know that might seem a bit overwhelming to you right now. Don't worry; we won't start with daily…we'll work up to that.
So, what is the Wife on Fire Challenge?
Well, I'll admit. It's a brand new idea I conjured up. Which means it may shift and transition over time, but for now, here's the idea…
I want to gather up a group of wives that are willing to make some intentional efforts in their marriage on a regular basis. Some efforts could be bigger, like seeking out a mentor couple in your marriage. Others could be tiny, like making a point to hold your husband's hand the next time you are out and about.
And I want to share these challenge ideas in a place where we, as wives, can encourage and build one another up. So, here's what I'm thinking.
I'll be sharing periodic Wife on Fire Challenges here on the blog, and on all the CWC social media pages (Facebook, Twitter, Pinterest, Instagram) and will ask for your participation and encouraging feedback.
Of course, if you haven't yet, be sure to sign up for post notifications here on Country Wife Chronicles by entering your email below:
Now, I told you we'd work up to daily challenges, so let's just start with a 4-week Wife on Fire Challenge for now. Every week, for the next four weeks, I'll be posting a challenge here on the blog and to all the CWC social sites (Facebook, Twitter, Pinterest, Instagram).
Try out the suggested intentional action and see what you think. My hope is that slowly, over time and repetition, these small efforts will fan the flame and create for you a Marriage on Fire.
So, let's get started with the first challenge!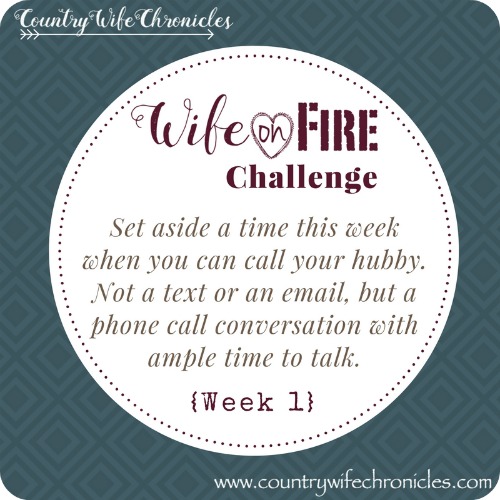 Now get out there and be a Wife on Fire!
Join in the conversation by commenting at the bottom of the page:
Are you committed to having a Marriage on Fire?

Are you game for our Wife on Fire Challenge? What are you most excited about?

How can we build up other Wife on Fire Challenge participants? I would love to hear your ideas for encouraging other wives on this journey with us!
Be Still & Know…