What does it mean to be a Wife on Fire?
At face value, directly from Google, here's what you get:
A "wife" is defined as a married woman considered in relation to her husband.
"On" is defined as physically in contact with or supported by.
And "fire" is defined as combustion or burning; a chemical combination with oxygen from the air, typically giving off bright light, heat and smoke.
Ok, that's good, there's our English lesson for the day.
But what does that mean in the context of marriage?
Here's how I see it.
A wife is a married woman to her husband. That sounds right. And fits within the context of marriage.
Moving on to "on." In the context of marriage, yup, there is physical contact and mutual support. I'd say that works. Check.
Now on to fire…let's dive in a bit here. Bear with me.
Fire requires oxygen. The air we need to breathe. I'll come back to this.
Fire gives off bright light. And heat. And smoke.
So, marriage…hmmm…here we go.
A Wife on Fire is determined to make an effort in her marriage, daily, consistent, like the air we breathe. Ever-present, life-giving efforts.
A Wife on Fire is a light unto her marriage. Determined to never let her light dim or go out, but shine brightly as a beacon of hope.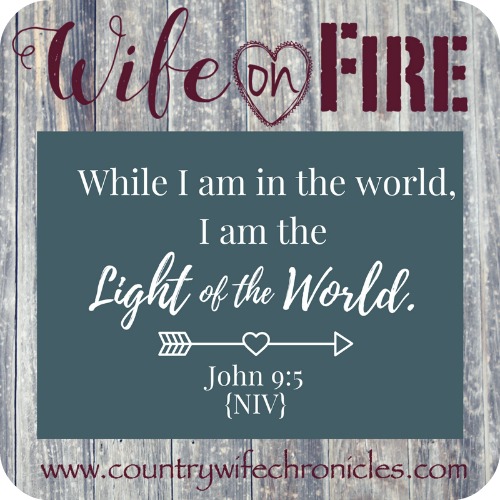 A Wife on Fire is warm and loving. (Ok, maybe not all the time, but I never said a Wife on Fire is perfect.) She tries to be a place of warmth for her husband to land and feel secure.
A Wife on Fire is a smoke signal for other wives. Yeah, I know that might seem like I'm grasping; I'm trying here. But think of it this way, a Wife on Fire desires to be an example and an encouragement for other wives. Now do you get the smoke signal reference?
Being a legit Fire Wife, I have seen my fair share of wildfires through the lens of my husband. And fires…well, they are powerful. I equate them to strength, another attribute of a Wife on Fire.
A Wife on Fire lives out a Marriage on Fire. She chooses Intentional Marriage.
She is determined to not let the fire go out. To keep the passion burning and growing an everlasting love in her marriage. Day by day. With little efforts in the name of love.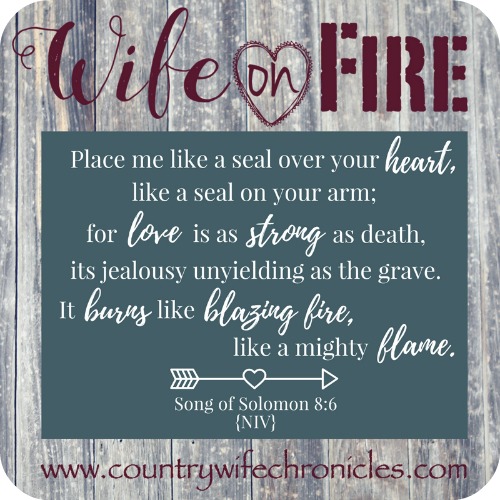 Are you a Wife on Fire?
So how can you tell if you are Wife on Fire material? Well, you are here reading this, so I'd say that's your first clue.
Are you married? Do you desire the best marriage you can possibly have?
And most importantly, are you willing to work for it?
If you answered yes to these questions, then I'd say you are well on your way to becoming a Wife on Fire. Welcome aboard!
A Wife on Fire forms and relies on a firm faith foundation for her marriage. She seeks the Bible as an instruction manual for her marriage and as a lesson in learning to love unconditionally.
A Wife on Fire supports and encourages her husband's dreams. She works to lift him up and send him off with love and assurance each and every day.
A Wife on Fire knows her love language(s). She knows her husband's love language(s). And she practices them as often as possible.
Stay tuned to this Wife on Fire Challenge and learn how you can win your very own copy of The Five Love Languages! Plus, there will be a bonus Love Language Freebie at the end of this 4-Week Challenge…
A Wife on Fire is determined to find contentment in all circumstances while pursuing her purpose with confidence in the gifts she's been given. She is ready and willing to fulfill her role as a wife and so much more.
A Wife on Fire is always prepared to stoke the fire. She refuses to walk away and let it die.

A Wife on Fire is the light of the world, striving to let her light shine brightly for God, drawing her husband and other wives in need of encouragement closer to Him.
A Wife on Fire is always willing to learn and grow. She faces challenges, accepts responsibility, and continually puts in the time and effort to build up her marriage.
She is a Wife on Fire for her marriage.
Does your marital flame need rekindling? Then join our Wife on Fire Challenge to fan the flame in your marriage and reconnect with your spouse on a new level.
We are in Week 2 of the Wife on Fire Challenge here at Country Wife Chronicles where we are calling all wives to make an intentional effort toward their marriage for four consecutive weeks.
Here is Week 2's Intentional Action for the Wife on Fire Challenge: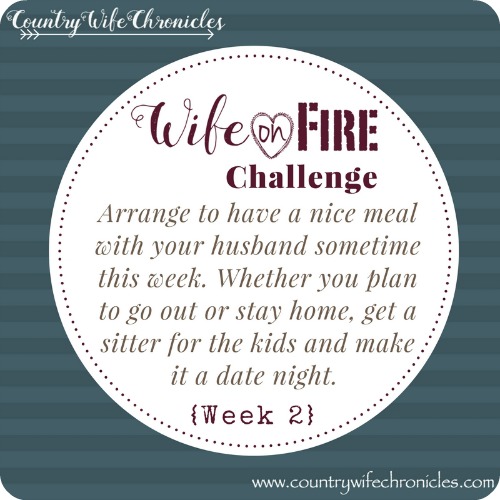 If you haven't joined in yet, no worries, you can do this 4-week Wife on Fire Challenge whenever it works for you, or hop in now at Week 2. Just check out last week's post for an intro and head over to any of CWC's social pages (Facebook, Twitter, Pinterest, Instagram) for more encouragement.
And you can always sign up for post notifications here on Country Wife Chronicles by entering your email below:
Start a conversation today by commenting at the bottom of the page:
Do you see yourself as a Wife on Fire?

What areas do you see that you want to strengthen in becoming a Wife on Fire?

What tips can you share to keep the flame burning in a Marriage on Fire?
Be Still & Know…