Woot! Woot! If you started with the Wife on Fire Challenge two weeks ago, you have officially made it to the halfway point!
If you are just reading this post and you're new to Country Wife Chronicles or you have just missed a few weeks of updates, please check out the first two posts of this series here:
In Week 1, I took some time to explain this idea that I hatched about bonding together to be better wives and encouraging one another in the process. It's all about choosing intentional marriage and making the effort.
And consistency. I suppose that's where the whole idea of a challenge came in. You see…I am intentional at just about anything and everything in this life. But I do sometimes lack in consistency.
So, while I do value intentional marriage and believe it is important to make a daily effort toward having a Marriage on Fire, I'm not always so good at practicing what I preach.
Enter the Wife on Fire Challenge.
Accountability. Encouragement. Consistency.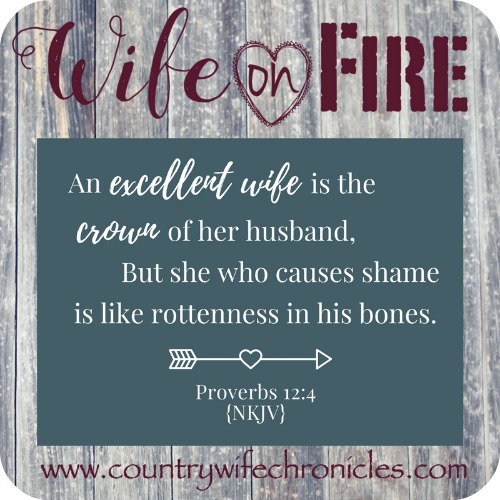 In Week 2, I went on to describe what it means to be a Wife on Fire. And to sum it up, it is simply being a Wife on Fire for your marriage. A wife that is willing to make the effort, keep the flame alive, and not walk away from building up and encouraging her husband.
Now that you are all caught up to speed on the Wife on Fire Challenge, let's review where we are at here at this halfway point.
For the past two weeks now I've ended my blog posts with a Wife on Fire Challenge: an intentional action or effort to make throughout the week towards your husband, for your marriage.
Week 1 was: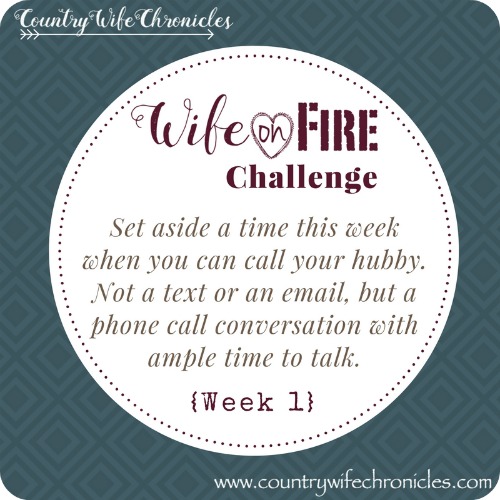 Week 2 was: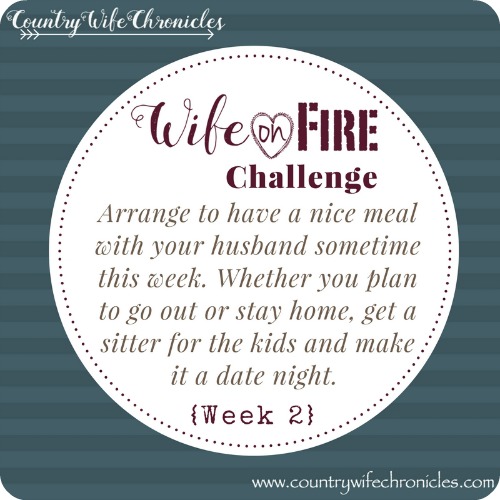 So, let me just say, "Job well done. Keep up the good work;" if you've been able to be on task for the past two weeks and have truly made the effort for a Marriage on Fire.
For those of you that have been reading along, but are not participating for whatever reason, here's your chance to jump in at the halfway point and give the Wife on Fire Challenge a chance, even if only for the last two weeks.
And, now, for this week's Wife on Fire Challenge…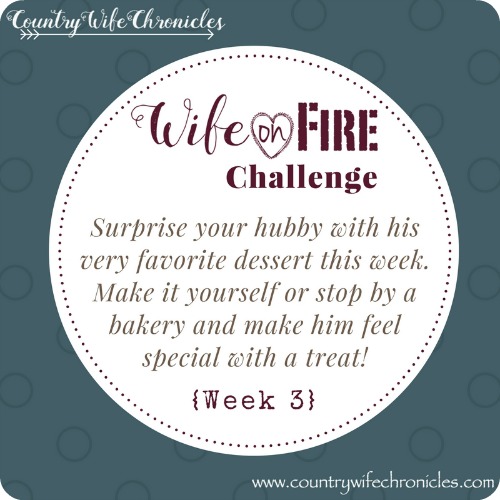 I hope you can say that you and your marriage are benefiting from the Wife on Fire Challenge. Maybe it is inspiring you to make more of an effort in your relationships. Or it's opened your eyes to making intentional marriage a priority in your life.
Next week, here at Country Wife Chronicles, we'll be closing out this 4-week Wife on Fire Challenge with the final challenge announcement, plus, a couple surprises are in store for those of you that have been participating!
In the meantime, keep on keeping on. Stay encouraged, don't give up.
And remain a Wife on Fire.

Are you looking for more encouragement during the Wife on Fire Challenge? So are we!
I would love to have you participate by sharing any feedback you have or encouragement for other wives in the challenge with us! Head over to any one of CWC's social pages to get involved and be encouraged! (There may even be a little something-something in it for you…stay tuned next week to learn more!)
Stay informed! Get notifications of all the latest posts here on CWC by signing up below:
And you can always start a conversation right here on the blog by commenting at the bottom of the page:
Be Still & Know…